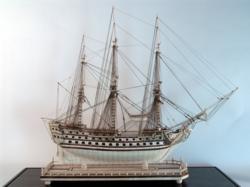 Boston, Massachusetts (PRWEB) April 03, 2012
Gilded age steam yachts including J.P. Morgan's Corsair, Howard Gould's Niagara, George Baker's Harvard and Ogden Goelet's "Mayflower" which went to become the Presidential Steam Yacht to be included in the marine auction on April 15.
Aficionados of the America's Cup will show interest in the range of Cup yachts including the New York yacht Club entries "America" of 1851, The Boston built "Puritan" of 1885, K boat "Defender" of 1895 and the J class sloop "Rainbow" of 1934.
There will be highly detailed workboats including freighters, fishing vessels and tugs.
A feature lot is a stunning Napoleonic Prisoner of War bone model of a frigate with intricately carved figurehead, stern and quarter galleries. POW models were built by highly talented French prisoners of war and traded for favors and better living conditions.
Other interesting models include a selection of vintage pond yachts - millionaire's toys that would actually sail on ponds. One of the models in the auction is seven feet long and eight feet tall with brass fittings and linen sails.
Dockyard builder's models from the 1890s will be in the sale. A "builder's model" is the architects model of the vessel. The "Queen Cristina" is so resplendent in detail that she actually has gold plated fittings.
Models are not the only maritime items in this auction. There is porcelain dinnerware and silver serving pieces from financier J.P. Morgan's yacht "Corsair", historic marine paintings, gleaming brass nautical antiques including binnacles, marine lanterns, telescopes, lightship beacons etc...
For a full listing, visit bostonharborauctions.com
Live bidding, Absentee bidding and Phone bidding available.