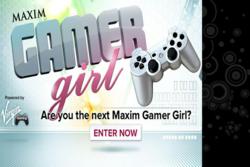 Our members are the perfect audience to help find a girl with the gaming cred' to hold her own at the biggest events in our industry
Los Angeles, CA (PRWEB) April 03, 2012
Maxim is embarking on a nationwide hunt to find one female gaming enthusiast who has the looks, personality, and gaming skills to claim the ultimate prize – the opportunity to be the first ever Maxim Gamer Girl!
Official Casting Link: http://MaximGamerGirl.com
After narrowing the field down to the finalists, only ONE battle-tested gamerbabe will open up a world of opportunity. Prizing includes exposure in Maxim magazine and on Maxim.com, an all-expenses paid trip to VIP gaming event(s), and a potential contract to become a Virgin Gaming spokesmodel, just to name a few. The approximate retail value of the prize package is $10,000.
"We're excited to be partnering with Maxim on this nationwide search," said Virgin Gaming CEO Rob Segal. "Our members are the perfect audience to help find a girl with the gaming cred' to hold her own at the biggest events in our industry."
The online casting runs between April 2nd and May 25th. Candidates who are over 21 by the start of the casting are eligible to compete by creating a Gamer Girl profile and video that shows why they would be the perfect candidate.
ABOUT ALHPA MEDIA GROUP: Alpha Media Group Inc. is a multimedia company and publisher of Maxim magazine, the largest young men's lifestyle magazine in America reaching nearly 11 million readers each month. Maxim Digital encompasses Maxim.com and Maxim digital editions, reaching more than 4 million unique visitors each month. Maxim magazine publishes 20 editions worldwide and is distributed in 63 territories.
ABOUT VIRGIN GAMING: Introduced in June 2010, Virgin Gaming is the premier destination for competitive console gamers to meet, challenge and play in head-to-head matches and tournaments for cash and prizes. With an array of proprietary features, including a Fair Play Guarantee™ (with automatic game results validation), Virgin Gaming allows gamers of all skill levels from around the world to safely and easily compete online against friends and other members in some of their favorite multiplayer games. A leading-edge convergence of competitive online gaming and video games, Virgin Gaming offers robust community features with member pages, community reputation and skill ratings, a variety of exciting tournament formats and more. For additional information, visit Virgin Gaming.
ABOUT MEDIABLASTR: MediaBlastr is a brandable social contest and online community platform. The company licenses unique digital properties and custom-develops online events. MediaBlastr powers entertainment industry network GotCast.com and has powered events for Sony PlayStation, Hautelook.com, Project Runway, VH1 and Maxim Magazine.