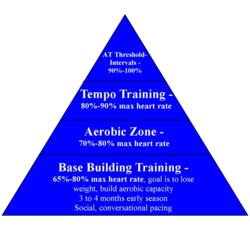 At Heart Rate Watch Company we have created a book called "Successful Heart Rate Based Training" that guides you through the process
Bozeman, MT (PRWEB) April 04, 2012
At Heart Rate Watch Company we recently released a book to help exercisers better understand how to use a heart rate monitor. Hundreds of retailers sell heart rate monitors but unfortunately very few know how to use them properly.
"We created the Heart Rate Watch Company to have a very high level of technical proficiency with respect to heart rate monitors and all fitness electronics" states Rusty Squire, President of the Heart Rate Watch Company. He continues, "We would rather go an inch wide and a mile deep then a mile wide and one inch deep like most retailers, but to be this narrowly focused we have to sell nationally."
Fitting a heart rate monitor requires that an individual know their wrist measurement and their chest measurement below the breast. Armed with these two pieces of information and the activities you participate in the selection process is ready to begin.
Armed with this information the absolute best thing to do is talk to a real expert. This is the tricky part - where to find a heart rate monitor expert? Local sporting goods store? Probably not. Big box store? Absolutely no way! Fitness electronics is complicated and very specialized so the best thing is to find an expert who uses and tests the products they sell.
Of course once a heart rate monitor purchase is completed the next big question is who is going to have the information on how to use it? Using a heart rate monitor properly takes a great deal of training in human physiology and understanding sports specific training methods.
"At Heart Rate Watch Company we have created a book called "Successful Heart Rate Based Training" that guides you through the process" says Squire. He continues, "It is a PDF document that goes step-by-step through the process and features information and methods used by real world-class athletes".
Once someone goes through a selection process like this and is armed with the information on how to use the product properly it puts them in an immediate position to have success.
A heart rate monitor can be purchased through a very precise process and then arm the individual with the knowledge they need to succeed. Anything short of meeting these two objectives means you are taking chances with purchasing the wrong product, or at the very least, a product that is not ideally suited to meet the needs of the individual.