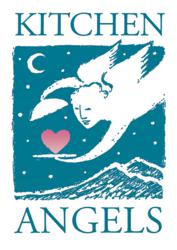 Santa Fe, New Mexico (PRWEB) April 02, 2012
Kitchen Angels of Santa Fe, a 'Featured Business' on SantaFe.com, is holding its 14th Annual 'Angel's Night Out' benefit, to raise funds to support the organization's costs for delivering free meals to home-bound clients with chronic or terminal illness. As with prior years, the Santa Fe restaurant industry is out in full force for this year's benefit, with 29 local restaurants participating. Restaurants are donating 25 percent of the evening's dinner sales (inclusive of all food and non-alcoholic beverages) to Kitchen Angels.
Participating in this event is simple. If someone wants to be part of this benefit, what they have to do is bring friends together on Thursday, April 19th, dine at one of the participating restaurants in this event, and the restaurant will donate 25% of the evening's dinner sales to the Kitchen Angels. Included below is a list of the restaurants participating in the evening's festivities, along with their phone numbers (all telephone numbers listed have a 505 area code with the exception of one establishment), for reservation and location purposes:
Andiamo! - 995-9595, Azur – 992-2897, Asian Restaurant – 983-3600, Café Ole – 438-3000, Café Pasqual's – 983-9340, Café Castro, Inc. – 473-5800, Counter Culture – 995-1105, Vinaigrette – 820-9205, El Meson – 983-6756, Galisteo Bistro – 982-3700, India Palace – 986-5859, India House – 471-2651, La Plazuela at La Fonda – 995-2334, Ristra – 982-8608, Los Amigos – 438-0600, Mariscos Costa Azul – 473-4594, Osteria d' Assisi 986-5858, Piccolino – 471-1480, Pizza Centro Design Center – 988-8825, Pizzeria Espiritu – 424-8000, Plaza Café Southside – 424-0755, Pranzo Italian Grill – 982-2645, Terra at Encantado – 877-262-4666, La Boca – 982-3433, The Ranch House – 424-8900, Tomme – 820-2253, Crumpacker's Café and Bake Shop – 471-0226, Jambo Café – 473-1269, and La Fuentes at the Bishop's Lodge – 819-4035
About Kitchen Angels:
Kitchen Angels is a community based, volunteer-driven agency that provides free home-delivered meals to Santa Fe residents living with chronic and terminal illness. The organization is committed to enhancing the quality of life and supporting the dignity of the Santa Fe community's homebound neighbors.
Contact Information:
Tony McCarty
Kitchen Angels
http://www.kitchenangels.org
(505) 471-7780
About SantaFe.com
SantaFe.com provides Santa Fe locals and visitors the most current interactive platform for events, music, arts, business, dining and lifestyle. SantaFe.com is a division of Hutton Broadcasting, located at 2502 C. Camino Entrada, Santa Fe, NM 87507
Contact Information:
Scott Hutton
SantaFe.com / Hutton Broadcasting
http://www.santafe.com
(505) 471-1067 (Media inquiries only, please)