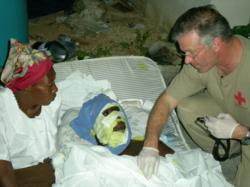 It is truly a joy to serve those who are oppressed.

David Vanderpool, MD
Nashville, TN (PRWEB) April 04, 2012
David Vanderpool, MD, CEO of LAVE MD, http://www.lavemd.com, and Mobile Medical Disaster Relief, http://www.mmdr.org, receives Lipscomb University's Dean Institute for Corporate Governance and Integrity Business with Purpose Award for his humanitarian work in disaster prone areas around the world.
Started in 2003, LAVE MD, Laser and Vein Esthetics, was created to fund Dr. Vanderpool's non profit organization, Mobile Medical Disaster Relief. LAVE MD specializes in the treatment of varicose veins, utilizing the latest in laser therapy. Additionally, LAVE MD provides esthetic services such as laser liposuction, laser hair removal, laser tattoo removal and many others.
Mobile Medical Disaster Relief provides medical aid, clean water initiatives, nutritional support, and micro finance projects to those affected by natural or man made disasters. Most recently, MMDR has purchased land in Haiti to build a hospital, orphanage, secondary school, vocational school and a church.