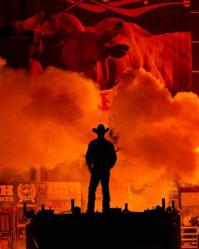 For the Rider, by the Rider
(PRWEB) April 03, 2012
The year is 1993. Bill Clinton has just taken office as the 42nd President of the United States, the average price of gas is $1.05 a gallon, and "Achy Breaky Heart" by Billy Ray Cyrus tops the charts at number one. It's also the year Tuff Hedeman and his long time friend and business associate Ron Pack produce the Tuff Hedeman Championship Challenge, their first bull riding event. This event would go on to become legendary, and one of the ultimate invitations a bull rider will ever receive. It would also forever change the history of bull riding, establishing a multimillion dollar sport and spearheading the way for revolutionary changes.
In 1993, Tuff Hedeman was two years short of his fourth world champion title and just a few months shy of breaking his neck, the injury that would influence his retirement in 1998. He and Ron Pack, along with several other riders and stock contractors, had many a discussion about bull ridings, and the dream of producing their own was now coming to fruition.
"Tuff and I never set out to produce events," stated Ron Pack, "What we wanted to accomplish was an improvement in the bull riding business. We had our ideas on rules, formats, payouts, and stock, and we knew if we brought THE very best bulls together with THE very best riders, we would be onto something."
The first event in April 1993 was planned as a three-day event at the Cowtown Coliseum in the Historic Fort Worth Stockyards. "That first night, there weren't enough people there to start a fight," joked Pack. "But boy, by that second night, the word had really gotten around. It was standing room only, and we knew we had something really big happening."
Over the years, the Tuff Hedeman Championship Challenge became the gold standard for bull riding. Every great bull rider and bull competed in the challenge, and only the best were invited. Bodacious, Red Wolf, Strawberry Wine, Hollywood, Moody Blues against Jim Sharp, Tuff Hedeman, Terry Don West, Justin McBride, Matt Austin, JW Harris. These were all memorable moments only a few were lucky enough to witness firsthand.
"One of the best rides I have ever seen was Jim Sharp on Dillinger; it gave you goose bumps," reflected Pack, "Then there was the time I bet $10,000 dollars Tuff could ride Wolfman, the only 100-point bull in the world. Tuff didn't ride him, but that was really something to see."
Other aspects of bull riding soon began to establish themselves. Sponsorships took on a whole new meaning and grew to the likes no one had ever seen. Sponsors were more afraid of being left out of the event than about cost or exclusivity, and most of them signed multi-year deals just to stake their claim in upcoming events.
Bull riding began developing a fan base as well. Folks loved it! Never had they seen something so dangerous, so exciting, so fun; they soon began packing the house each and every event. As the Tuff Hedeman Championship Challenge expanded to a cup series and then to a televised event, the fan base truly exploded.
The Tuff Hedeman Challenge would evolve to establish the mainstay of bull riding today. Tuff and Ron were meticulous in developing an entertaining event that benefited not only riders, but fans. Things like sound, lasers, and instant replay all flourished during this time and enhanced the spectator experience. New rules were developed, payouts were bigger and more structured, and the bull riding event format was fine-tuned. Over time, even things like the chute gates, signage, the arena layout, and the institution of a back chute judge were all implemented through the Tuff Hedeman Challenge. Heck, even the Cowtown Coliseum floor was kept so clean you could eat off it!
Tuff and Ron developed the philosophy "For the Rider, by the Rider." Everyone was treated equally, and everyone was given the chance to play. The only thing ever asked of the rider was not to turn out of one of their events.
Tuff and Ron, along with Pam Minnick and Bill Carnes, continued on with their Tuff Hedeman Championship Challenge success, eventually moving to the Will Rogers Coliseum in Fort Worth. None of them knew it at the time that the collective decisions they made beginning in 1993 would create such an industry, nor did they think they would still be here 20 years later.
Says Pam Minnick, " It has been great to watch not only Tuff start ' Big Money' bull riding but to keep it going for 20 years while never losing sight of what the original goal was and that was to put the bulk of the money back in the riders pocket. That has been a noble mission and what has made bull riding what it is nationally and internationally today."
So what now after 20 years? Tuff offers his thoughts:
"The faces and the game have changed over the years, but the heart is still the same. I think the best of bull riding is yet to come. There is still a lot of ground to be covered, and I'm happy to be along for the ride."
The 20th Annual Tuff Hedeman Challenge will be held April 7th, 2012, and fans will be taken back to where it all began: the Cowtown Coliseum in the historic Fort Worth Stockyards. Tuff again has invited the current and the best bull riders in the world to compete, so you can bet only the best bulls will be there too. It will be a homecoming of sorts, as many of the riders, stock contractors, and influential people who have been there along the way will be on hand to help Tuff celebrate 20 years.
Show starts at 8 p.m. at the Cowtown Coliseum -Tickets on sale at Tickmaster.com. For more information, go to http://www.cbrbull.com or call (817) 626-Bull.