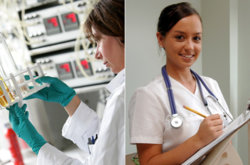 We wouldn't hesitate to recommend the workshop to others. The insight and value gained from such a simple process is priceless!
Addison, Texas (PRWEB) April 04, 2012
Infection Prevention & Management Associates (IP&MA) know what it means to provide a diverse set of infection prevention services in highly regulated health care environment. However, taking that knowledge and expertise, and applying it effectively in a variety of patient care situations still comes down to having the right people on the ground. "We have assembled an outstanding team of people to support our clients," said Virginia Kennedy, Principle of IP&MA, "but it is key for us to be able to understand exactly what it is that makes our staff successful as we grow and adapt to the ever changing industry."
Using the Shadowmatch technology, PeopleSync originally worked with IP&MA on a custom Team Building workshop that provided unique insight into the IP&MA staff. "IP&MA is a classic situation of a team that 'works', but can be taken to the next level by definitively understanding 'why,'" said Adrian Wood, VP of Business Development for PeopleSync. "Our Team Building workshop simply and accurately revealed the individual habits and behaviors of the IP&MA team and produced benchmarks that define the overall team and the strengths of diversity within it."
"The staff enjoyed the workshop tremendously," says Kennedy "And now that we have benchmarks for our team, the insight provides us with tremendous value. Not only can we better manage expectations of each other and develop better management strategies, we can also now use the benchmarks to make sure we continue to recruit staff that will perform to our high expectations."
"Team Building is a very typical first step for our clients," says Wood "It not only provides instant and lasting value to employees, it also sets a foundation against which you can now effectively develop and recruit."
Using Shadowmatch, IP&MA will now consistently be able to hire new staff that fit their culture, and match the habits and behaviors of their top performers in order to maintain their high customer service levels at clients.
"We wouldn't hesitate to recommend the workshop to others," says Kennedy "The insight and value gained from such a simple process is priceless!"
About PeopleSync
PeopleSync, based in Dallas, Texas, provides the internationally acclaimed Shadowmatch® behavioral benchmarking system to enable strategic services that provide value in team building, employee development, hiring and redeployment by addressing the challenges of contextual fit in the workplace.
For more information about PeopleSync, please contact Adrian Wood, Vice President, Business Development at adrian(dot)wood(at)peoplesync(dot)com, Phone: 972-588-3365. Or visit http://www.peoplesync.com.
About IP&MA
Infection Prevention & Management Associates (IP&MA) originally incorporated in August 1996. In 2000, Virginia Kennedy became the sole proprietor. Since that time the company has grown to 35 employees, and continues to seek new opportunities to provide its clients expert, and professional service.
Much of IP&MA's current business is derived from long-term program management contracts. The remaining is from short-term consulting projects or interim program management. IP&MA's services are primarily focused in acute care, long-term acute care, acute rehabilitation and acute psychiatric facilities. Current clients are located in California, North Dakota, Colorado, Massachusetts, Missouri and Texas. Many clients have enjoyed long-term program management services for more than five years.
For more information about IP&MA, please contact Virginia Kennedy, Principle at vkennedy(at)infectionprevention(dot)com or call (713) 721-0813. Or visit http://www.infectionprevention.com.