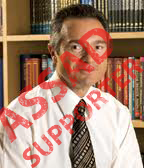 Irvine, CA (PRWEB) April 02, 2012
More than a dozen prominent advocacy and interfaith groups in Southern California today released an open letter addressed to University of California Irvine Chancellor Michael Drake, urging him to take immediate action regarding its Board of Trustees Chair Hazem Chehabi, who continues to hold the highest diplomatic seat in the U.S. as a representative of Syria's brutal Assad regime.
The open letter follows an overwhelming UCI Associated Students' March 15 vote, which called for Chehabi's removal from the university's Board of Trustees.
The letter states, in part:
"As concerned community members and advocates, we applaud the student government's courageous decision and join them in urging the UCI administration and the Board of Trustees to take immediate necessary measures to remove Dr. Chehabi from his position as Chair until he condemns the ruthless massacre of innocent civilians by the Syrian regime and no longer represents the government of Bashar Al-Assad as Honorary Consul General of the Syrian consulate in Southern California. ...
"We should clarify that it is not enough for the UCI administration to merely issue general condemnations of massacres of innocent Syrian families and children by the Assad regime. What is needed are direct and clear actions from UC Irvine distancing itself and its Board of Trustees from any and all connections with the Assad regime."
SEE LETTER: http://www.sacouncil.com/index.php/blog/open-letter-to-uc-irvine/
The Syrian American Council (SAC) was founded in 2005 to mobilize Syrian Americans to strengthen civil society in Syria, to promote friendly relations between the Syrian and American peoples, to engage civic and governmental organizations to advance civil liberties, human dignity and democracy in Syria. The organization has represented Syrian Americans to the U.S. State Department, Congress, and in international meetings and councils.