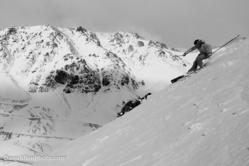 Stowe, Vermont (PRWEB) April 03, 2012
This week the Subaru Freeskiing World Tour (FWT) is wrapping up its final stop of the season in Kirkwood, California for the World Tour Championships. The tour started on August 9th with the Red Bull Powder Disorder in Las Leñas, Argentina, and through it all the Skiershop.com team riders, Ashley Maxfield and Louise Lintilhac have stayed on top of the competition. Both skiers are in the hunt to place in the top three for the overall title in the Women's Division.
Due to low snow conditions earlier in the year, the FWT event at Kirkwood was postponed from the end of February to April 4, 2012. However after a few late season storms both Ashley and Louise are prepared and stoked for the event.
"I am excited for Kirkwood because I have done well there in the past, placing fifth there last year, and because the Cirque is one of the best venues on the tour," notes Louise.
Currently Ashley is sitting in third place for the overall title and Louise in seventh. "The FWT is taking each athlete's top three runs overall, so if I get into the second day, I have the chance of being in the top five overall, and maybe even in the top three - which would be a first for me on the tour," Louise further mentions. Additionally, if Louise and Ashley continue with their success it would be the first time Skiershop.com has a rider in the top overall standings, let alone two.
The event begins Wednesday April 4, 2012 with athlete registration, followed by a qualifier day, and then two days of competition scheduled for April 6-7. Skiershop.com is proud to have such strong representation at this year's World Tour Championships, and we couldn't be happier for both Ashley and Louise!