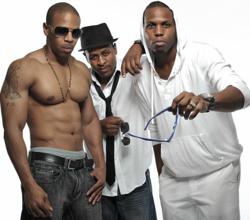 This song is essentially about doing what it takes to get where you want to be in life with a no holds barred attitude and work ethic
Miami, Florida (PRWEB) April 03, 2012
Miami rap group, The Ego Kings show us what 'going all out' is all about with their new single - appropriately titled "I Go All Out" featuring SD. The group, which consists of members O'Lo, Big Slick and M.A. the Zombie, have been gaining significant popularity in the streets of "South Florida", the Southeast U.S. and abroad with their relevant sound, regionalized marketing and live performances. Gaining momentum and getting to where they are today took a lot of hard work and personal struggle, which is explained in the lyrics and tone of their latest single.
"This song is essentially about doing what it takes to get where you want to be in life with a no holds barred attitude and work ethic " Says M.A. the Zombie, of The Ego Kings. "You ask me what I'm doin', I'm doin' what it takes"…"Who I got to know, who I got to pay, who I got to be", are just some of the thought-provoking lyrical statements in the song that demonstrate the drive and 'go all out' approach we take to making it in the competitive music industry furthered M.A.
The story behind the song "I Go All Out" stems from even deeper meaning and influence than the well-known every day struggles of the music business. Ego Kings affiliate, SD, a fellow Miami based rapper and longtime friend of the group wrote the intro and chorus for the song. Unlike most recording artists, who write their lyrics while sitting in recording studios or on tour buses driving across country, SD wrote the words he performs in "I Go All Out" while doing time in an Arizona Federal Correctional Facility. "Sittin' in a cell with a pocket full of hope…the hustler state of mind got me in stealth mode", were some of the opening words to "I Go All Out" SD wrote while incarcerated. "My only thought at the time was, I can't change my past. I understand that I can't make up for the time I lost in prison, all I can do from here forward is try and make an impact in people's lives with music and change the direction my life is going" says SD. "I got out of prison, reunited with The Ego Kings and the first thing we did was write "I Go All Out" to show the world how we are all going to make it, no matter what it takes this time around."
The Ego Kings have just released the official music video for their single "I Go All Out" and are back in the studio recording the rest of the songs for their debut album, due out the summer of 2012. They have performed live, opening for major artists such Akon, Rick Ross, and Trina and have a number of 2012 shows booked including their recent performance at the sold out "Superbrawl X" event held in South Florida. The Ego Kings are steadily building a following on the live music circuit, through social networking and with air play on radio stations "Power 96", "99 Jams" and others. "Yo Raps" magazine featured the group as the "Banger of the Day" and they collected 53,000 plays in just four days. Their singles "Take your girl", "Bedroom Bully" and "I Go All Out" are available on The Ego Kings Facebook page, as well as updates on their upcoming performances and exclusive behind the scenes photos of the group from the production for their music video "I Go All Out".
The Ego Kings - "I Go All Out" ft. SD (Official Music Video) - Video Link
For more information on THE EGO KINGS performances, appearances, interviews, and other promotions go to: http://www.facebook.com/TheEgoKings.
For booking & management, please contact: theegokings(at)gmail(dot)com