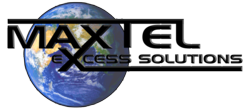 Your obsolete component procurement experts.
Hudson Falls, NY (PRWEB) April 04, 2012
In early 2012 MaxTel Excess Solutions moved into their new 32,000 sq. foot facility in Hudson Falls, New York. This move will enable them to add inventory to their thousands of in stock line items including hard to source, passive and electromechanical parts such as: semiconductors, transistors, integrated circuits, resistors, capacitors, relays, and connectors. MaxTel will also be expanding their business offices in mid-2012 to accommodate future growth.
With a vision to be a leader in providing the highest quality products and services to their customers, MaxTel is in an excellent position to reaching that goal through their experience and professional leadership. In today's changing market, the electronic industry's supply chain needs are evolving as well, and MaxTel's supply management team is constantly improving its quality control in an effort to supply their customers with quality product in a timely fashion. With their unique supply chain the company is able to supply not only several Fortune 500 companies, but hundreds of independent ones as well.
With the natural disasters that have decimated manufacturing industries, such as the earthquake and subsequent tsunami that occurred in Japan during 2011, large gaps in the supply chain for such things as hard drives, semiconductors and integrated circuits has resulted. This has hampered the distribution infrastructure which will take many years to return to the level at which it was prior to 2011. MaxTel Excess Solutions has placed themselves in a position to bridge the gap left by obsolescence and supply chain shortages through a global network and resources that have leveraged relationships with suppliers the world over. They work with procurement managers having difficulties fulfilling obsolete requirements and Bill of Materials within their deadlines.
MaxTel Excess Solutions strives to ensure the safe arrival of their components by using modern environmentally stable shipping methods that not only include protection from component damaging moisture, but also package them in anti-static materials, helping prevent downtime due to "dead on arrival" items. This is further complimented by a 30 day trial of components that guarantees the clients total satisfaction with their orders.
MaxTel is in possession of over 10 years' experience in the obsolete components market and its C.F.O. compliments this with over two decades worth of knowledge and experience in the financial growth market and importation/exportation business. The dutifully trained professional sales staff for MaxTel Excess Solutions are highly qualified and dedicated to a joint working relationship between MaxTel and their clients. Their focus is on addressing the long term needs of clients with attention to hard to find, long lead-time components and filling detailed BOM'S (Bill of Materials). MaxTel Excess Solutions adheres to an environmentally conscious philosophy within the company with a focus to ROHS standards in the components industry.