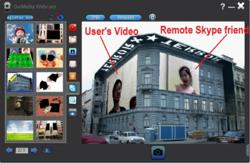 (PRWEB) April 09, 2012
Morecam Effects v1.16, recently released by GorMedia.com, adds unique split stem technology directly to webcam hardware to allow users the ability to operate multiple video interfaces at once, without the addition of a virtual webcam. A library of innovative webcam effects will also be included with this release, giving users a range of fun and exciting backgrounds to incorporate within chat windows.
The Morecam split driver allows webcams to support several applications, such as MSN, Skype, Yahoo Messenger, ICQ, simultaneously without a disruption to the video stream. The result is an enhanced visual experience with a variety of webcam effects to choose from.
Traditionally, webcams are capable of supporting only one video messaging application at a time. The addition of a second video stream often causes a "device in use" error. To solve this error, traditional webcams required the user to install a virtual webcam to the system, which would allow the webcam to access different messaging platforms simultaneously.
With GorMedia's software package installed, only the user's physical web camera is accessed to run simultaneous applications. No other software on the market is able to provide the same split use of a webcam, and support a variety of webcam effects, without the user first installing a virtual webcam.
Version 1.16 is complete with a complementary set of modules including: a webcam split diver, filter effects, face track, pan zoom, and fun scene effects. The software package also comes with downloading tool for users to connect to the server for software updates and the latest webcam effects.
A free trial version of GorMedia Morecam is now available for download here.
For additional information about GorMedia's webcam splitter software package and to see what webcam effects are available contact Parker Young at Parker(at)gormedia(dot)com.