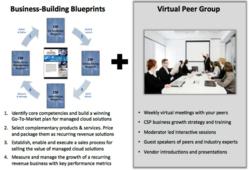 We strive to enable our resellers to grow significant and sustainable business around Google Apps. MSPexcellence has developed programs, tools, and training to help our resellers get to this level with their business
(PRWEB) April 03, 2012
MSPexcellence, the business-building consultancy for Managed Services Providers (MSPs) and Cloud Solutions Providers (CSPs) has been selected by Google to provide a set of tools and services that assist Google Apps Resellers in building a CSP business based on Google Apps for Business as well as other complementary cloud services from the Google Apps Marketplace. The MSPexcellence Cloud Solutions Provider Program takes the Google Apps Reseller through a progression of business-building blueprints for establishing and scaling a CSP business and features a Virtual Peer Group that provides a discussion forum for applying strategies and best practices.
The blueprints follow and facilitate four stages of growth in the lifecycle of a Cloud Solutions Provider: The Go-To-Market Blueprint provides market planning and business modeling tools, a Service Pricing Blueprint guides resellers through the difficult process of pricing and packing their service portfolio based on a cloud solutions ecosystem, a Sales Process Blueprint structures the sales cycle from lead generation to customer acquisition and also provides a solutions-oriented sales toolset and the Performance Management Blueprint tracks 15 key performance metrics for growing a recurring revenue business and presents them using an at-a-glance executive dashboard as well as graphical reports for trend analysis.
"We strive to enable our resellers to grow significant and sustainable business around Google Apps. MSPexcellence has developed programs, tools, and training to help our resellers get to this level with their business", said Jeff Ragusa, Google Apps SMB Channel Lead. "After many years of helping managed service providers build up recurring revenue business, they're now bringing a great deal of experience to help cloud service providers do the same".
All subscribers to the CSP Program also become members in the MSPexcellence Virtual Peer Group, or VPG. The goal of the VPG is to advance the knowledge and understanding of its membership in order to apply best practices when perfecting their CSP business model, sales and marketing execution, technology strategy and to make the most effective use of the tools provided by the business-building blueprints.
"As a Google Apps Premier SMB Reseller, our business is already strong and growing. So, too, is the market for cloud-based solutions and services. The CSP Program helps us look beyond our current business model, focusing on the future in a more structured and strategic way," commented Allen Falcon, CEO Cumulus Global. "The program helps us evaluate, plan, and expand our services with a greater understanding of the impact on our costs, our operations, and our bottom line. Rather than trial and error, the MSPexcellence CSP Program gives us information we are using for more timely, more accurate, and more beneficial decisions"
"We believe the market is undergoing a fundamental change in the how IT services are delivered to companies from the small business to the enterprise," according to Todd Hussey, Partner and Co-founder of MSPexcellence., "Just as the VAR model has transformed into the MSP model, we are now on the edge of the next transformation as premise-based IT services shift to the cloud. Google is perfectly positioned to lead this transformation with cloud solutions that create tremendous opportunities for partners and deliver greater business value for customers."
The CSP Program has undergone extensive research and beta testing prior to its release. By working directly with Google Apps Resellers, the MSPexcellence team has been able to develop a program that meets the needs of Google partners. "In my company's efforts to become a true "cloud first" solutions provider, it has been a challenge to create profitable recurring revenue, and in a few conference calls with Dave and Todd of MSPexcellence, I've learned that we're not the only company struggling with this make or break business problem. However, Dave and Todd, along with a group of business owners willing to openly share their experience, have provided a solid foundation of market information and tools to help us begin to build the layered products and services approach that the new economy of the cloud demands for business success as a solutions provider. I don't think I'm exaggerating when I say that being part of the beta testing of MSPexcellence's CSP Program is one of the best things to have happened to my company", said Anthony P. Martini, VP and Cloud Computing Consultant, Logicwing, a beta participant in the CSP Program.
The Cloud Solutions Provider Program is available now and includes a 12 month subscription to a shared website hosting a comprehensive collection of on-line resources including the business building blueprints, tools, templates and educational materials. Also posted on the site are recorded VPG sessions and access to an ongoing discussion forum for reseller partners to review and respond to any of the VPG topics. The first VPG session will take place on April 11, 2012 at 12pm ET and will feature Jeff Ragusa, the Google Apps SMB Channel Lead, as a guest speaker. The annual subscription price for the CSP Program is $1,995. For more information about the CSP Program visit http://www.mspexcellence.com or contact MSPexcellence directly at info@mspexcellence.com and by phone at 800.785.4620.
About MSPexcellence
MSPexcellence is a provider of business building strategies, tools and services for managed service providers and their technology suppliers. The company was founded by Todd Hussey and Dave Zwicker who bring unparalleled industry experience to the MSP and CSP business services landscape in the form of technology messaging and positioning, pricing and packaging strategies, go-to-market planning, content-driven lead generation programs, effective sales staffing and management of the sales process. This experience is embodied in the industry's most complete compilation of MSP/CSP best practices, The MSPexcellence Playbook, an easy-to-use guide for building a successful MSP business and the Cloud Solutions Provider Program. More information about MSPexcellence is available at http://www.mspexcellence.com.