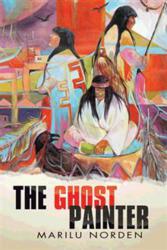 Santa Fe, NM (PRWEB) April 03, 2012
In Marilu Norden's new art novel "The Ghost Painter" (published by Abbott Press), newly-deceased Adelaide Moran, a world-famous artist, obsessed with not having finished her "final masterpiece," steals the soul of a young artist who, held captive by seemingly insurmountable shamanic forces, struggles to complete the task and reclaim her freedom in this fast-moving novel set in the art environs of New Mexico and New York City.
An excerpt from "The Ghost Painter":
"Ramon is a genius, thought Adelaide. But so am I! Such a masterpiece would guarantee me a significant place in art history, putting me way ahead of my nemesis, Georgia O'Keeffe. Humph! If it weren't for Stieglitz getting her career going, she'd be just like all the other Art Students League graduates who had to fend for themselves to stand out from the crowd. I, for one, made it on my own and am proud of it.
Adelaide started walking toward what she perceived to be the end of the tunnel, squinting as she felt her way along with hands outstretched, deep in her musings. However, we'll need help with the figures. I can't see like I used to, and figures were never my forte. She felt sure she could direct things on Earth, using the shamanic guidance available in New Mexico. What I need, she thought, is a young woman artist whose soul, body, and talent in portraiture I can 'borrow' for a time to paint like me. But she knew she would need Ramon's help in finding such a woman."
Norden believes in "The Ghost Painter's" relevance. "Many negative forces, especially in cyberspace, are vying for our attention and involvement today," she says, "often to the detriment of one's soul. Socrates's admonishment, 'to thine own self be true,' rings ever more real and applicable." "The Ghost Painter" is available from Abbott Press, Barnes and Noble and Amazon.
About the Author
Marilu Norden is a professional artist, author and actress. The mother of five grown children, she is widowed after 50 years of marriage to a clinical psychologist and lives and works in Santa Fe, New Mexico. She is also the author of "Unbridled: A Tale of a Divorce Ranch." More about her can be found by visiting her website at http://www.marilunorden.com.
Abbott Press, a division Writer's Digest—the oldest and most respected publisher devoted to the education and advancement of writers—is an indie-publishing imprint dedicated to helping writers bring their literary vision to print. Author Solutions, Inc., a leader in indie book publishing, will fulfill publishing, sales, and marketing services for Abbott Press. For more information, or to begin publishing a book today, log on to abbottpress.com or call 866-697-5310.
###