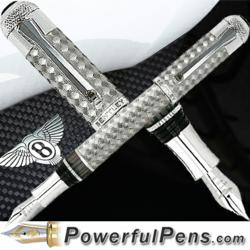 Tibaldi Pens Releases Limited Edition Crewe 60th Anniversary Fountain Pen
New York, NY (PRWEB) April 11, 2012
Tibaldi Pens are giving automotive and pen enthusiasts alike the chance to own a piece of historical craftsmanship coupled with the Bentley lifestyle of luxury and design. The Tibaldi-Bently collections are designed in the spirit of the world renowned automobile and lifestyle of Bentley. Precision writing instruments crafted with the engineering and quality found in the fountain pen collections are being offered by luxury pen dealer PowerfulPens.com.
William Margita of PowerfulPens.com, an online authority for pen collectors, says Tibaldi fountain pens have maintained their value through not only innovation but the gold and silver materials used in their manufacturing. Gold prices have maintained or exceeded their expected value consistently over the last 24 months with high expectations to do so in the future. With escalation in foreign dependence, gold and silver bullion has offered refuge from the international financial crisis in varying degrees of investments by both individual and corporate investors. Margita cites the overall consideration Tibaldi takes in developing limited edition pens for collectors.
The Limited Edition Crewe 60th fountain pen celebrates the history of Bentley in Crewe, Cheshire, England, where peak performance of the Bentley Crewe factory peaked during World War II. This pen commemorates the contribution that the Bentley Crewe factory made in history and the glory days of the Bentley Crewe factory in England. The Crewe 60th release includes a total of 40 of the white gold Tibaldi fountain pens and 400 of the silver fountain pens. Margita encourages serious pen collectors to place their orders before select numbered pens are claimed.
PowerfulPens.com offers no more than one-hundred of the best fountain pens at a time, each offered for it collectivity and unique themes. Tibaldi is one of the most popular world-wide brands to include Pelikan pens, Montegrappa and Visconti fountain pens. The Tibaldi-Bentley series of fountain pen offers both bold colors and detailed craftsmanship bring the two quality luxury brands together with high quality materials. Pen collectors can contact 1-888-960-6665 for specific availability or see the current selection online to include images and video at http://www.PowerfulPens.com