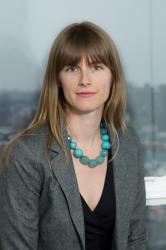 Family conflict is comprised of many elements—legal, financial, emotional—and Ani is committed to providing her clients with divorce options that address the full spectrum of their goals and concerns, as holistically as possible
(PRWEB) April 03, 2012
In a move that will expand the ability to offer constructive, intelligent solutions for the entire range of family law issues, the Collaborative Law & Mediation Offices of Katherine Eisold Miller has announced that Ani Mason has joined the firm as an Associate.
An experienced family lawyer, Ani serves clients who are seeking less destructive options for divorcing, including collaborative law and mediation. "Family conflict is comprised of many elements—legal, financial, emotional—and Ani is committed to providing her clients with divorce options that address the full spectrum of their goals and concerns, as holistically as possible," said Katherine Eisold Miller, founder of the Westchester divorce firm. "Her approach is to demystify the law and explain legal concepts in understandable terms so that people, who, with help, can be the true experts in how best to resolve their conflict, have all the information and tools they need to make the right decisions about their future."
In her previous practice as a divorce litigator, Ani developed expertise in managing high conflict, high-emotion cases, and helping spouses relate productively where communication was particularly strained. She has assisted clients in acute crises and those facing time-sensitive needs relating to their divorce. Ani is bilingual in Spanish and has extensive experience working internationally as well as with foreign-born populations in New York. A year of psychoanalytic training and social work classes in addition to her law degree give Ani unique insights into how legal, financial, emotional and practical considerations intermingle in clients' actual experience of divorce. Ani approaches her work with clients cognizant of that reality and equipped to process her clients' concerns, goals and options through multiple lenses.
Ani graduated cum laude from Princeton University and New York University School of Law, where she was a Sinsheimer Scholar within the Root-Tilden-Kern program. Ani has held a Fulbright Fellowship and a Skadden Fellowship.
Prior to joining Katherine Eisold Miller Collaborative Law & Mediation Offices, Ani practiced at Legal Services NYC as a divorce litigator. Throughout her tenure there, she worked to design and develop a Family & Divorce Mediation Project. Ani also helped to arrange mediation and collaborative law trainings for divorce litigators at non-profit organizations around NYC, and she co-chaired and facilitated a panel focusing on the potential use of mediation and collaborative law in cases with some history of domestic violence.
About the firm
The Westchester divorce law firm of Katherine Eisold Miller Collaborative Law & Mediation Offices builds upon 25 years of experience in understanding the emotional complexity of divorce and other family law disputes, including custody and support issues, distribution of marital property, and premarital agreements. Utilizing collaboration and compromise they offer constructive and intelligent solutions and work to achieve fair and durable results for client in a non-adversarial approach. More information on the firm can be found at http://www.westchesterfamilylaw.com/firm-overview/