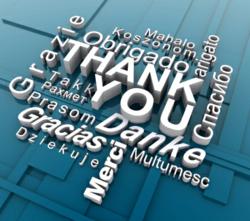 every one of us has someone from our past that deserves our gratitude for something that we were only able to appreciate in retrospect
Philadelphia, PA (PRWEB) April 03, 2012
Over the last decade the concept of Gratitude has received a lot of attention. The practice of expressing gratitude is linked to improved mental and physical health. Keeping a gratitude journal has become a mainstream practice. As the team at uencounter.me was developing it's concept of creating a virtual pin map to mark places where one has lived, worked, and experienced adventure among other things, they found that they were recalling people in their lives who had left an impact. In many cases, the individuals they were remembering were participants in brief encounters or someone they had lost track of along the way. According to Leslyn Kantner, Co-Founder, comments such as "What was that man's name?" or "A random stranger…" were frequent. This inspired the team to include an element of their geo-location map application whereby users could post messages to people based on where and when a gratitude deserving encounter occurred. Currently, this aspect of the application is just beginning to gain popularity as users begin to build their maps and start to recall the key people who were in that same place in time.
How It Works
After dropping a pin on the map to represent a specific location in time, users have an option to 'send an encountergram'. A new screen appears asking for details of the encounter for which the message of gratitude is directed. Users then have the option of selecting one of the predefined messages such as "I think of you often" or "You made a difference" or they can create their own personal message. Recently, a user left a message for a random stranger who had stopped on the side of a highway in Nevada to help when the user had run out of gas a few miles outside of Las Vegas. Messages have been left for college professors, customer service reps, medical personnel, and first responders. When contact details are known and provided, the uencounter.me team makes an effort to notify the individual or employer that they have a message of appreciation waiting. As for the rest – the uencounter.me team hopes that as the user base grows and more people read through the messages, either they will recognize themselves or the intended recipient and pass the information along. In either case, every encountergram that is posted contributes positively to the environment of gratitude and raises awareness.
Kantner enjoys beginning her day by reading through the messages posted overnight. "It's a great way to start each day. I find that I am more conscious of the interactions I have with people on a day to day basis" and adds, "every one of us has someone from our past that deserves our gratitude for something that we were only able to appreciate in retrospect". Uencounter.me is seeking to become a social platform for positive expression and exchange.
About
Uencounter.me is a virtual pin map that is social! It was born from an innate curiosity of the interwoven universe in which we reside; the serendipitous nature of our lives, a life time of memories, and a desire to see it in a visual format. CEO Leslyn Kantner coupled a great idea with a lifetime of entrepreneurial spirit and developed a dynamic team to develop and build what is now the only geo-location web application that emphasizes 'people'. The site went live in November of 2011 and continues to improve its product based on user needs and recommendations.