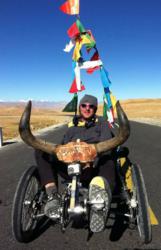 Paul Pritchard was very grateful to his Tibet travel agency Explore Tibet, he said:" Our most heartfelt thanks go out to Jamphel at Explore Tibet for making this journey such an insightful and joyful experience."
(PRWEB) April 03, 2012
New record. According to tibetexploretour.com, two disabled adventurers finished their 26 day biking Tibet tours from Lhasa to Nepal arranged by ExploreTibet.
Explore Tibet, a local Tibet travel agency based in Lhasa, successfully operated two disabled people to cycle the 1100km Friendship Highway. These are probably the first two disabled people who finish a Biking Tibet tour.
Was it possible for two disabled people to cycle the 1100km Friendship Highway? To ride all the way from Lhasa to Kathmandu over the Himalaya Mountain range? To ride the dirt road to Qomolongma Base Camp? To tackle the rarefied air above 5000m and to film the journey? Carol Hurst and Paul Pritchard were going to find out. Neither Carol nor Paul Pritchard can ride traditional bicycles; they just don't have the balance, so the two of them ride recumbent tricycles. Carol Hurst and Paul Pritchard were joined by film makers Sharyn and Chris Jones of Griffon Expeditions and physiotherapist Mel Weber.
The first week of the trip found Carol Hurst and Paul Pritchard riding up the impressive Yarling Sangpo gorge to Xigatse. This was a gentle introduction. Whereas able-bodied cyclists take the more scenic Gampa La, which would have taken them to nearly 5000m on day two, they opted for steady acclimatization. Lhasa is at 3680m and Xigatse 3890m so altitude sickness is a very real possibility especially once we got above 4500m.
West of Xigatse is where the Tibetan plateau really begins. Vast areas of wild alpine moorland dotted with yaks. The Friendship Highway was surfaced in 2008 and is easier to ride on than most Australian roads. But the 8 day dogleg up to Mount Everest was most definitely the toughest part. A whole week of pot holes, gravel, and sand land bowling ball sized rocks. But, once there--what a sight. Mere words cannot do justice to this holy mountain - the sheer size, the light, the beauty. Paul Pritchard said, "For me it was a long held dream comes true, and deservedly difficult to approach."
During the trip, Carol Hurst and Paul Pritchard only had three or four flats and Paul Pritchard suffered a sheared quick release pin due to the rough descent of the Everest road. That problem was easily remedied with the judicious use of a tyre inner-tube.
Paul Pritchard said, "The whole ride took us 26 days and thanks to Samdrup our Tibetan guide, Dawa our cook and Tsering our driver, went swimmingly well. The ride was accident free and we had minimal illness due to altitude - just the usual grogginess and some Cheyne/Stokes breathing (waking up gasping for air)."
The biggest downhill in the world - 4600m from the summit of the Thang La down to the Kathmandu valley, was as much fun as they expected and dangerous too once they had crossed into Nepal with crazy Tata truck drivers.
Carol Hurst and Paul Pritchard finished their 26 days biking Tibet tours from Lhasa to Nepal arranged by a Tibet travel agency ExploreTibet, Paul Pritchard was very grateful to his Tibet travel agency Explore Tibet, he said, " Our most heartfelt thanks go out to Jamphel at Explore Tibet for making this journey such an insightful and joyful experience."