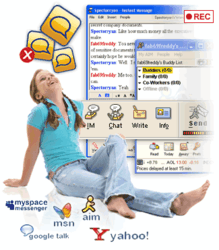 Dallas, TX (PRWEB) April 09, 2012
Some people love to chat online randomly, not just because of privacy protection, but due to the factor of thrill and excitement. Chatting with random strangers allows a person to create an identity far from his own. This makes the user elusive and attractive at the same time. The Iddin application operates on the premise of random chat. It is a strong engine capable of reaching many people all around the world.
Another thing people loved about Iddin is its easy manoeuvre and simple mechanics. The user can visit the website and jump in the chatroom right away. He can also filter the application's search to three options: specific country, anybody from the USA, or anybody. The 'Anybody' option is the largest scale of search because it is worldwide. Usually, Iddin connects the user to a random stranger in just few seconds.
People enjoy random chats because they don't have to worry about personal information spillage. This has been a major problem in complicated, old-school messengers. In a way, hackers can get to the information inputted in those old messengers. Chatters in Iddin do not need to relay their personal information, but it is still their choice.
Iddin chatters can upload their personal pictures in the chatroom. They can use their pictures, or caricatures. Also, they can disconnect from the stranger chat anytime. After that, they can reconnect to other strangers. This quick and easy factor proves that the Iddin IM chat is versatile and chatter-friendly.
Iddin can also block obscene and irritating strangers. Once these strangers are blocked, the user will never be able to connect with them in the chatroom. In case there are bugs, chatters can also send email queries in the Iddin website.
About Iddin
Iddin is a free web application that specializes in generating random chat with strangers. Users can choose the locations of the strangers, or they can have the engine to search the whole world. Random chat is encouraged to protect the identity of people and also to empower spontaneous connection that is fun and interesting. Users can visit http://www.iddin.com to discover its features.