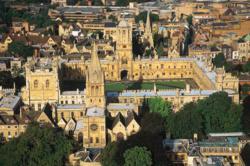 "Economic Reform Process in China"; "Industrialization and Industrial Policy in China"; "China's Financial System: Past, Present and Future"; "Rural Development in China "; "Challenges to China 's Continued Rapid Growth"
Oxford, United Kingdom (PRWEB) April 05, 2012
HEH Limited has sponsored various international educational and cultural events for many years and thus its sponsorship of the seminar on China's Economy to be held at St. Cross College, Oxford University, is a natural progression.
The seminar focuses on broader ideas, concepts, visions and perspectives about China's economy, as well as its economic issues having global impact. Both undergraduate and graduate students of Economics and closely related studies whose future careers might be related to China's economy are invited to visit http://www.oxoneducation.com for further information. Eligible students from China are also welcome to join the event.
The seminar on China's Economy will be held twice this year, from 16th to 20th July and from 10th to 14th December, 2012. Scholarships are available to eligible students.
The seminar topics include "Introduction to Oxford"; "Economic Reform Process in China"; "Labour Market and Migration in China"; "Poverty and Inequality in China"; "China and Globalization: Trade"; "China and Globalization: Capital Flows"; "Industrialization and Industrial Policy in China"; "Economics of the Environment in China"; "China's Financial System: Past, Present and Future"; "Does Economic Growth raise Happiness in China?"; "Rural Development in China"; and "Challenges to China's Continued Rapid Growth". Digital downloading of lecture notes is available after the seminar.
In addition, students are encouraged to make their own presentations on relevant issues, along with group discussions chaired by lecturers. Both "Questions for Discussion" and "Preparatory Reading for the Questions" are provided. No formal paper is required.
Each prospective student participant is expected to pre-register online and, upon approval by the academic director of the seminar, is formally invited to the event at Oxford.
The seminar on China's Economy at Oxford University also offers cultural and social activities including Formal Hall Dinner at St. Cross College, traditional English afternoon tea at the Randolph Hotel Oxford and punting on the Thames and Cherwell rivers, as well as visits to Oxford city, colleges, museums and other places of interest. After the seminar, there is a 6-day UK tour for students coming to the event from abroad.
HEH Limited is an international investment holding company in Hong Kong, which maintains a strong commitment to corporate social responsibility in helping financially disadvantaged students in various countries of the world with access to educational experience at home or abroad. For 2012, HEH Limited offers scholarships to all the UK student participants of its sponsored seminar on China's Economy to be held at St. Cross College, Oxford University, in both July and December.
Contact
HEH Oxford Seminar on China's Economy 2012
Tel 44-1865-302-960
Fax 44-1865-422-312
http://www.oxoneducation.com
administration(at)oxoneducation(dot)com