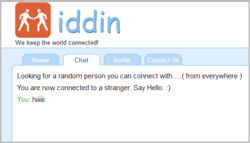 Dallas, TX (PRWEB) April 10, 2012
Random web chat has been one of the interesting pastimes of chatters today. In a random chat, strangers can create new identities; they are not forced to give their personal information, which is considered a risky move in the cyberspace. The developers of Iddin understand this specific need for privacy. That is why they upgraded the global connectivity level of Iddin.
Iddin's latest release features an improved global chat function. Now, the user can select from three connectivity options: specific country, anybody from the USA, or anybody. The 'Anybody' option is the largest scale of search because the application searches for a stranger in different parts of the world. Everyday, it has been estimated that Iddin has over one hundred thousand online users. This makes Iddin a powerful application with simultaneous random chats occurring.
Iddin users can still give their personal information to strangers, but it is their call. This move is not encouraged by Iddin. However, users still have the option to upload their pictures. According to statistics, Iddin chatters with uploaded pictures have higher tendencies to make new friends. Some chatters also referred to Iddin as an online speed dating application, minus the subscription fees. This applies well to people who spend a lot of time doing IM chat.
Any topic can also be talked about in the Iddin chatroom. Famous topics are trends, fashion, PC games, technology, relationships, sex, and humor. In case bugs or glitches appear, users can send email queries to the Iddin staff. New users can visit the Iddin website to learn more about its specific features.
About Iddin
Iddin is a free web application that specializes in generating random chat with strangers. Users can choose the locations of the strangers, or they can have the engine to search the whole world. Random chat is encouraged to protect the identity of people and also to empower spontaneous connection that is fun and interesting. Users can visit http://www.iddin.com to discover its features.