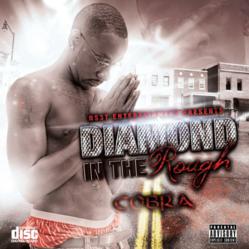 Miami, FL (PRWEB) April 03, 2012
Rap artist Cobra recently released his mixtape "Diamond In The Rough." Coast 2 Coast Mixtapes and NS3T Entertainment present the project, which is now available for free download. "Diamond In The Rough" features Cobra on tracks with guest artist appearances from K. Walker, J-Deezy, Frost, Redd Knova, and T-Wizz.
Roshod Cordell Pollard (1987) was raised in Anguilla, MS, and developed a passion for writing lyrics at the age of 13. He adopted the name "Cobra" as a comparison to his lyrics and the reptile's dangerous venom. Cobra was influenced by artists such as Tupac, Jadakiss, Z-Ro, and Big L. Destined to overcome his many struggles and contribute to the change in hip hop, Cobra keeps it versatile and is certain that he will do just that. When asked how he will contribute to that change, Cobra answers, "Well, I'm just trying to help keep it alive. I think a lot of rappers are capable to contribute to the change, but we don't get the opportunity, being from the South. The majority of listeners are being force-fed the same thing over and over again, therefore, when they hear real hip hop, no matter what region, it's unrecognizable to many. So my conscious rap, Southern style, and versatility is change within itself." Now Cobra is ready to take on this challenge, linking up with underground producer Reddy. Together they bring music that is sure to catch the ears of any crowd.
"Diamond In The Rough" is available for free streaming and download at http://coast2coastmixtapes.com/mixtapes/mixtapedetail.aspx/cobra-diamond-in-the-rough