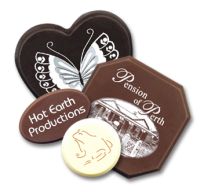 "Make a list of important things to do today. At the top of your list, put "eat chocolate." Now, you'll get at least one thing done today."
~Gina Hayes
Wellington, FL (PRWEB) April 05, 2012
Chocolate Graphics chocolates are not only delightfully delicious but each send a very sweet message as well. Each chocolate features a raised chocolate design of the customer's choice. The chocolates can be branded with company logos, personal messages, creative and artistic images, and we can also put photos directly onto the chocolate. They are successfully used in retail, events, corporate and hospitality.
Chocolate Graphics International uses a process far more advanced than simply printing on chocolate. It is through this unique process they are able to personalize emboss messages and customize the size and shape. Chocolate Graphics process is so unique that it results in a product that is entirely made of chocolate. No icings, ink or rice papers.
"Chocolate Graphics® is such a unique product and nothing quite like it is offered in the US. Since the product's debut several months ago, it has been extremely well received and word of mouth orders are already coming in! The trend for chocolate in the US is definitely for personalization; no one wants something that everyone else can get for their special event. This is what I think will make Chocolate Graphics® so successful in the long-term here in the US."
Carol Webster - Chocolate Graphics International USA
Chocolate Graphics International is an Australian based company that provides personalized embossed chocolates. These chocolates make ideal gifts for weddings, promotions,the hospitality industry and for everyday occasions. Chocolate Graphics International is a company on the move. Growing from a small cottage based industry in 1996 to a global commercial venture in 2008. Chocolate Graphics International is a private company with its US headquarters in Hendersonville, Tennessee under the leadership of Carol Webster. For more information please call 561-460-4738 or browse around our website at http://www.chocolategraphicsus.com/kab.html to see our enormous range of personalised Chocolate ideas and discover how the tempting allure of chocolate can benefit your business.