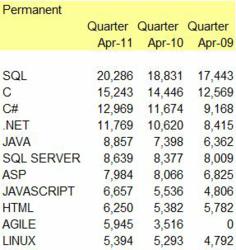 In 2011 we saw a reasonable bounce in the sector...the spotlight was on the IT industry, particularly on areas such as security and mobile.... skills requirements and job opportunities will change.
(PRWEB UK) 4 April 2012
For many, technology in 2011 will be remembered for high profile hacking, mobile patent disputes and Google taking on Facebook. But for those on the front line 2011 was the year of positive developments, including an overall uplift in job postings and the fastest salary growth rate in three years, according to data from specialist website CWJobs.co.uk and JobAdsWatch.
In a year when mobile apps took off in earnest, developers dominated the IT recruitment space, making up 41% of all IT jobs advertised by the final quarter of 2011. Contract IT personnel were also in high demand, with a 25% increase in postings year-on-year.
SQL was the most sought after skill in 2011; however, demand for software development methodology, Agile, went up by 59% in the number of permanent job postings over the year (Q4 '10 to Q4 '11), further demonstrating its wide spread adoption in the industry.
28% more jobs were advertised in London year-on-year in the final quarter of 2011. This may have been, in part, due to the increased investment in the Tech City initiative in East London, which seeks to provide opportunities for tech start-ups and multinationals within the region. By the end of 2011, 77% of all permanent jobs advertised were in the Southern and Western regions of England. In the contracting space, SAP jobs continues to surge ahead with a 45% increase year on year.
The public sector has now experienced nine consecutive quarters of decline, with a 16% decrease in jobs in the last quarter of 2011. However, following the significant drop in IT vacancies in 2009 and 2008 due to the recession, the financial sector saw significant improvements in 2011. This sector, as financial companies begin to reinvest in IT, now represents 21% of all IT jobs with continued strength in areas such as ICT jobs as well.
Richard Nott, Website Director at CWJobs says: "In 2011 we saw a reasonable bounce in the sector. While there's no denying the impact the economy has had on the rate of growth, these statistics show that there's recovery happening and the private sector and the South East of England are leading this.
"Last year the spotlight was on the IT industry, particularly on areas such as security and mobile. As new issues and opportunities continue to shape the sector, skills requirements and job opportunities will change accordingly."