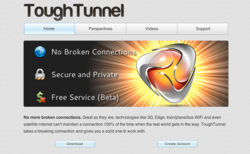 checking and sending email is usually acceptable but inconsistent depending on coverage and other interruptions but for anything requiring a more stable internet connection, being at home or in the office is a necessity
(PRWEB) April 03, 2012
Internet access on the move is taken for granted today by anyone with a smartphone. The general availability of internet access allows for true mobile productivity. It is not always expected to be fast but it is expected to be available and with mobile hotspot functionality included in smartphones and tablets it has never been easier to connect. Yet even with comprehensive Wi-Fi on planes, trains and buses and widespread mobile internet coverage, trying to work online while travelling can be a frustrating experience.  Overloaded Wi-Fi hotspots, contended mobile access and loss of signal when travelling through tunnels and areas of patchy coverage cause breaks in connectivity, forcing users to reconnect and in some cases restart what they are doing.
As a result people limit what they work on when they are on the move.  Documents, spreadsheets and applications stored and edited on the device are preferred, checking and sending email is usually acceptable but inconsistent depending on coverage and other interruptions but for anything requiring a more stable internet connection, being at home or in the office is a necessity.
SimpleHelp, creators of the ToughTunnel.com online service, aim to remove these restrictions and let people work more freely.  Using technology adapted from their highly successful remote support software, ToughTunnel is able to make an 'unbreakable tunnel' through to online services.  If the signal drops and the connection breaks, the 'unbreakable tunnel' is kept open and is repaired as soon as the signal picks up.  Applications using the tunnel no longer suffer failed connections and restarts and instead only ever experience a temporary delay.
Videos on the ToughTunnel.com website demonstrate a Windows Remote Desktop session and an SSH console session either reconnecting slowly or failing to reconnect entirely without ToughTunnel, versus being quickly and automatically reconnected when going through it.
SimpleHelp is offering the service and application for free while they solicit feedback from users.  They also have a privately hosted ToughTunnel server under development for use in data-sensitive corporate, health and government environments and are asking for interested parties to contact them via their website at ToughTunnel.com.