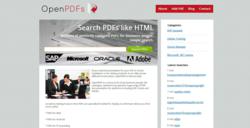 (PRWEB) April 04, 2012
Although the Internet is an incredible source of information, in business there are times when actually finding the resource one needs can prove frustratingly difficult.
For business users this problem is magnified, especially when dealing with platforms like SAP, Oracle, Microsoft and Adobe, whose resource pages are so numerous that even knowing the exact document name, it can still take too long to find the precise documentation.
For example, OpenPDFs has indexed more than 150,000 current PDF documents relating to SAP systems alone. While most can be found on SAP.com, the process of searching for, discovering and downloading the right one can frequently prove tortuous.
The other issue is relevance. Because these platforms are designed to cater for every conceivable type of business from automobile manufacturer to zoological park, there are a wealth of instructions, process maps, documentation and training resources associated with every element of every vertical market. It's enough to make a head spin.
OpenPDFs.com was created to help. With millions of perfectly captured PDF documents for the world's most popular platforms and ERP systems, OpenPDFs.com is designed to help busy business people get exactly what they need - fast.
Catalogued for easy search, OpenPDFs.com tags each document by platform, content and format, delivering documents optimised for display on PC, iPad and Android, as well as for print.
The site has a straightforward and powerful search function that delivers a tidy menu of results catalogued by relevance and featuring both a thumbnail of the title page and a text extract for clarity. It's how PDF libraries should always have been indexed and presented and hopefully other business users find it as helpful and time saving as the OpenPDFs team does.
Finally recent, popular and related searches are easily visible on the page and often help users find what they're looking for without even needing to key in a search term. It's all about being as simple and useful as possible.
To ensure every document is up to date, OpenPDFs continually spiders and re-catalogues PDF inventory from all major platform holders (currently SAP PDFs, Oracle, Microsoft and Adobe, although the platform also carries a selection of documents for other platforms) and optimises each document for easy search and download.
For users that means consistently finding the information they need, when they need them and in the format that's most useful. It's one those things it's hard to believe hasn't been done sooner.
OpenPDFs.com is a free service for business users.
Background
OpenPDFs.com was started by senior business people who had a problem: getting access to documentation for systems they (and their departments) use all the time.
For the overwhelming majority of organisations, it's impractical to keep a physical paper library of information relating to every aspect of an ERP, CRM or accounting platform, just because of their extreme complexity and the frequency of updates and amendments. The result is vast archives of information squirrelled away in labyrinthine corporate websites that can be all but inaccessible when users need them most - usually urgently.
All feedback, however small is very welcome. Please send comments, suggestions or just a quick hello to: hello(at)openPDFs(dot)com