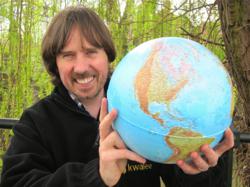 This social aspect, and the fact that it is not time consuming, bring an extra little bit of fun to the modern lifestyle.
- Bruce Everiss, CMO
England (PRWEB) April 04, 2012
Gobang Social is a challenging, turn based, strategy game available globally for free on the App Store. It is the first game from Leamington Spa, UK based startup Kwalee.
The core game mechanic of Gobang Social was arrived at after much prototype play testing. The game's goal is to connect five bombs within a 12 x 12 matrix, whilst competing against Facebook friends. The game is easy to pick up but players can get really good at it using various strategies.
The company decided to take no risks with its first launch, rolling the game out gradually around the world whilst simultaneously making revisions based on feedback, such as the addition of in-game chat.
Version 1.2 was released in Asia and Australia last week and the launch went so well that the UK was added on Friday. Over the weekend Gobang Social was extensively downloaded and received much positive feedback from many quarters. So now there is no hindrance to everyone being able to play it as Gobang Social is available on every Apple App Store in the world. It has gone global.
David Darling, Kwalee CEO is delighted to be in the market:
"In just 6 months we have created a fantastic team who have delivered their first game. We will now build on this and will continue to recruit good people so we can create the entertainment that the market wants."
Bruce Everiss, CMO, is also positive:
"Most of the people who play this game play it quite a lot with their friends. This social aspect, and the fact that it is not time consuming, bring an extra little bit of fun to the modern lifestyle."
Kwalee's debut game, Gobang Social is available on the iPhone and iPad for free from the App Store. Download it now: http://kwalee.com/gobangsocial/