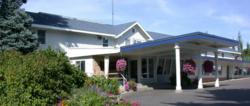 'Open your eyes today and look upon a happy world of safety and of peace. Forgiveness is the means by which it comes to take the place of hell. In quietness it rises up to greet your open eyes, and fill your heart with deep tranquility...
Lake Delton, WI (PRWEB) April 03, 2012
Joan Cravener, Administrator of Endeavor Academy, in Lake Delton, Wisconsin, announced today that the Academy's schedule of online classes will be accented with special forgiveness messages recorded by Academy Teachers in honor of the upcoming International Forgiveness Week and Weekend of Perfect Peace program set for September 14 -23 in Wisconsin Dells, Wisconsin.
Explained Cravener, "Endeavor Academy is an international academy for transformation through enlightenment as prescribed by Jesus Christ in His contemporary scripture, A Course In Miracles. Endeavor Academy is also the Seminary and the educational arm of the New Christian Church of Full Endeavor, the sponsor of A Course In Miracles International. A Course in Miracles is a curriculum of self-realization and God-dependency discovered through the art of forgiveness and the acceptance of self-responsibility. "
Cravener clarified the integration of these messages with the Academy's current curriculum. "The Academy Online Classes are geared to international audiences and are broadcast in native languages through the internet to Spanish-speaking countries around the world, to Greek- speaking, to French, English, German, Dutch, and Polish. Yet, forgiveness is the common language with which we speak the truth of God's love. It is a message that everyone can hear. As the Course teaches, 'forgiveness offers everything I want.'"
"As Jesus directs in A Course In Miracles," continued Cravener, "'Open your eyes today and look upon a happy world of safety and of peace. Forgiveness is the means by which it comes to take the place of hell. In quietness it rises up to greet your open eyes, and fill your heart with deep tranquility as ancient truths, forever newly born, arise in your awareness. What you will remember then can never be described. Yet your forgiveness offers it to you.'"
Academy Online Event Coordinator, Br. Lourdes, disclosed the purpose of these forgiveness declarations. "We are using these 5-7 minute messages to highlight forgiveness as the core teaching of A Course In Miracles. We hope to generate excitement for the International Forgiveness Week and Weekend of Perfect Peace, and attract attendance from around the globe. Academy teachers are communicating the renewal afforded by forgiveness through the expression of their own personal stories of transformation."
Lourdes explained that the forgiveness messages will be recorded in all languages currently spoken in the Academy online classes and will be archived on the site. "Beginning April 15, 2012, interested listeners can access the forgiveness messages in the archive at the Endeavor Academy website http://endeavoracademy.com/en/online-classes. The messages also will be accenting the regular Academy schedule."