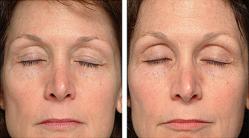 Non-surgical treatments are proving to be especially popular with younger clients - Amanda Lowrie of Manor Skin Spa
(PRWEB UK) 4 April 2012
For many, image and appearance is of the upmost importance. This is reflected by the increasing number of people undergoing cosmetic surgery. Today cosmetic procedures are much more affordable than they once were, but it seems that many are turning to less invasive non-surgical procedures as an alternative to going under the knife. Manchester based Manor Skin Spa have responded to the increasing demand for such non-surgical treatments and have introduced both 'Thermage' and 'Fraxel' to their range of treatments.
Fraxel and Thermage are two innovative treatments, referred to by many as "non surgical facelifts", that are proving especially popular with those eager to take years off their appearance without resorting to surgery.
Amanda Lowrie of Manor Skin Spa, a facial spa based in Cheshire, has stated that she has seen a significant increase in demand for both Thermage and Fraxel treatments, often in combination with one another.
"Non surgical cosmetic procedures, notably the highly effective Fraxel and Thermage are definitely amongst the most popular treatments we offer, particularly amongst younger clientele who are eager to prevent wrinkles and aging of the skin, rather than dealing with it later in life" – Amanda Lowrie
The Thermage treatment has been shown to tighten sagging skins by encouraging the body to produce greater amounts of collagen, giving the skin a firmer and more youthful appearance. Radio frequencies heat tissue beneath the surface of the skin, which tightens and contours skin leaving it looking fresh and youthful. The results achieved are not dissimilar to that of a facelift, although there is no surgery involved with Thermage.
Fraxel, utilises fractional laser technology to effectively resurface skin, reducing the appearance of wrinkles, sun damage, scarring and discolouration. This treatment is often used in conjunction with Thermage, so once the skin on the face is tightened any blemishes can be reduced with the unique laser treatment. When these two procedures are used in combination with one enough then significant results can be achieved.
Dr. Gene Rubinstein, who is certified by the American Board of Dermatology, states that Fraxel is an "it" procedure that will be "hot in the coming year". He claims that it is already popular with A-list celebrities and is often used to smooth out skin before red carpet appearances. Thermage is also big in Hollywood and is used by both male and female celebrities to firm up and to get the silhouette they desire.
It has been reported in the press that these treatments are gaining popularity with younger patients as they have been shown to significantly delay the appearance of aging in skin. Whilst the usage of these treatments grows with a younger generation both Fraxel and Thermage remain popular with people of all ages and in the past decade these two procedures have been carried out over a million times in more than one hundred countries.