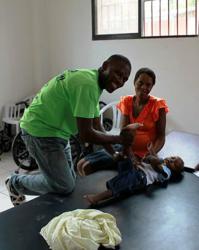 The clinic continues to bless Haitians with relief and healing...
San Antonio, TX (PRWEB) April 11, 2012
Evidence In Motion (EIM) will be hosting a continuing education event for physical therapists and physical therapy students on May 19, 2012 in San Antonio, TX. This four hour seminar, Manipalooza Saturday Mosh, is the opening session of the annual Manipalooza event, a four day boot camp of hands-on learning in manipulation, soft tissue techniques, pain management strategies, and private practice management presented by Evidence In Motion.
The cost to attend the Saturday Mosh is $50 for physical therapists and free to students pursuing a degree in physical therapy. A portion of the $50 registration fee will be donated to PTHelpForHaiti.org, an organization dedicated to "Building Haiti Better" through providing a sustainable physical rehab clinic in Jacmel, Haiti. PTHelpForHaiti.org is a collaboration between PT Development and their family of physical therapy clinics as well as a number of NGOs (non-governmental organizations) including Healing Hands for Haiti, Team Canada Healing Hands, Team Ange, The Community Coalition for Haiti, and others. The Jacmel Clinic sees 25-40 patients requiring orthopaedic care each day. It is 100% donor supported and provides all treatments at no cost to the patients.
"There remains a great need for physical therapy in Haiti," explains Larry Benz, DPT, MBA, EIM founder and principle and partner of the Jacmel Clinic. "The clinic continues to bless Haitians with relief and healing through the generous help of PTs and OTs who provide supplies, equipment, and wages for the Haitian and expatriate staff. EIM hopes the Saturday Mosh will generate great support for a small clinic that continues to make a huge impact."
The May 19th event will feature national and international thought leaders in the physical therapy profession including Larry Benz, DPT, MBA and Rob Wainner, PT, PhD. Other presenters include Jim Elliott, PT, PhD, Shane Koppenhaver, PT, PhD, Jack Miller, PT, DPT, and Paul Mintken, PT, DPT. The topics covered serve to improve patient outcomes and energize physical therapists through facilitating collaborations among peers. These topics include:

How Manipulation Works and What It Means For Clinicians
Advance Practice Physiotherapy Triage of Spinal Surgical Patients
Where's the Lesion? Does it Matter?
The Treatment Based Classifications System- The Rumors of My Death Have Been Greatly Exaggerated
The Patient from Hell: Decalcifying the Patient Experience
Cervical Manipulation: Dangerous but worth the risk?
Group discussion and debate will accompany the presentations. Participants will be awarded four contact hours for attending the Saturday Mosh.
For more information about the ongoing rehabilitation work in Jacmel and for other ways you can help, please visit pthelpforhaiti.org.
Visit manipalooza.com for additional information on the Manipalooza Saturday Mosh as well as details for the entire four day Manipalooza event.
About EIM:
EIM is an educational institution committed to creating and promoting a culture of evidence-based practice (EBP) within the physical therapy profession. EIM seeks to develop long-term relationships with its partners, create collaborations, and assist practitioners with the integration of a comprehensive EBP approach to care. Our mission is to elevate the physical therapy profession and the role of physical therapists in healthcare delivery. EIM offers Continuing Education, Certification Tracks, Residencies, a Fellowship Program, a Musculoskeletal Transition DPT, and an Executive Program in Private Practice Management with optional Transition DPT. For more information, please visit EvidenceInMotion.com. You can also find EIM on Facebook and Twitter, @EIMTeam.