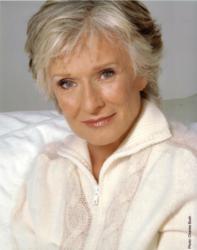 "I am looking forward to being part of the Florida Film Festival which combines three of my favorite things-film, food and fun but not necessarily in that order!"
Maitland, FL (PRWEB) April 03, 2012
The funny, unique, and multi-talented Cloris Leachman comes to the Florida Film Festival, sponsored by Full Sail University, on April 20 to present a glorious screening of THE LAST PICTURE SHOW (for which she won a Best Supporting Actress Oscar®) and reminisce about her expansive career during a live Q&A. With eight Primetime Emmy® Awards – more than any other performer -- and one Daytime Emmy® Award, she's garnered more than 140 television credits including 1970s smash The Mary Tyler Moore Show, Phyllis, Lassie, The Twilight Zone, The Muppet Show, The Facts of Life, Malcolm in the Middle, and her current turn as the senile Maw Maw on the Fox comedy Raising Hope. Leachman's film credits include Young Frankenstein, High Anxiety, and Spanglish, with highly anticipated releases of The Fields with Tara Reid, Gambit with Colin Firth and Cameron Diaz, and Adult World with Emma Roberts and John Cusack on the way. If that's not enough, she recently captivated audiences with her fancy footwork on Dancing With the Stars. She truly is a Hollywood icon and one of the most accomplished and beloved American actresses of stage, film, and television.
Leachman comes to Central Florida to screen a digitally restored, definitive director's cut of THE LAST PICTURE SHOW with 7 minutes of original footage previously unseen in its theatrical release. One of the signature films of the "New Hollywood" of the late '60s and early '70s, this great American drama was nominated for eight Academy Awards including Best Picture, Best Director, and a remarkable four nominations for acting: Ben Johnson and Jeff Bridges for Best Supporting Actor, and Ellen Burstyn and Cloris Leachman for Best Supporting Actress. Johnson and Leachman both won Oscars, a fitting tribute to a stellar ensemble cast that also featured Randy Quaid, Cybill Shepherd, Timothy Bottoms, Eileen Brennan, Clu Gulager, and John Hillerman. Set in a small, windswept, dying Texas town in the '50s, where the only cinema is about to close for good, this coming-of-age tale is based on the semi-autobiographical novel by Larry McMurtry and lovingly directed by Peter Bogdanovich. The film's nostalgic appeal is heightened by Robert Surtees' black-and-white cinematography and so effectively captures its time that Roger Ebert called it "the best film of 1951."
The 2012 Florida Film Festival runs April 13-22 in Central Florida with a record-breaking lineup of 169 films representing 31 countries and 28 world premieres. Academy Award-winning director, screenwriter, and producer Barry Levinson will present Liberty Heights and participate in a live Q&A on April 21. Culinary superstars Marcel Vigneron (Syfy Network's Marcel's Quantum Kitchen, Bravo's Top Chef), Chad J. Galiano, Gui Alinat, Jeff Potter, and Martha Hall Foose will unite for Taste and Presentation: The Digital Dish and Saturday Evening Feast on April 14. Rock idol Rick Springfield will be live in the house on April 19 for the world premiere of An Affair of the Heart. For a complete lineup and free downloadable guide of films, parties, and events, visit http://www.FloridaFilmFestival.com.
Event: An Evening With Cloris Leachman
Date: Friday, April 20, 2012
Time: 7:30-11PM
Location: Enzian, 1300 South Orlando Avenue, Matiland, FL
Cost: $25
Limited tickets available. This event is expected to sell out.
To purchase tickets for An Evening With Cloris Leachman, visit http://www.FloridaFilmFestival.com or call 407-629-1088 x257.
About the Florida Film Festival:
The Florida Film Festival is the premier showcase in Central Florida for American independent and international film. Celebrating its 21st anniversary, the Festival debuted in 1992 and is a core program of ENZIAN, a nonprofit cultural organization founded in 1985. ENZIAN and the Florida Film Festival have served more than 1.5 million guests and hosted hundreds of notable celebrities including Paul Newman, Christopher Walken, Oliver Stone, Glenn Close, John Waters, Emma Stone, Campbell Scott, James Caan, Ed Burns, Jason Lee, Gena Rowlands, William H. Macy, Jon Voight, and Edward James Olmos. This year's Festival features a record-breaking 169 films representing 31 countries and runs April 13-22. The Festival is funded in part by national and local businesses including Primary Sponsor Full Sail University and receives support from United Arts of Central Florida and the State of Florida, Department of the State, Division of Cultural Affairs, the Florida Council on Arts and Culture, National Endowment for the Arts, and Academy of Motion Picture Arts & Sciences. In addition, this project is funded in part by Orange County Government through the Arts & Cultural Affairs Program.
For additional information:
On-line: http://www.FloridaFilmFestival.com
Facebook: http://www.facebook.com/floridafilmfestival
Twitter: @FloridaFilmFest
About Enzian:
Enzian is Central Florida's only full-time, not-for-profit cinema for first-run independent and international films, classic revivals, documentary features, and select family entertainment. Enzian, a member-supported organization serving the community for 27 years, is home to the internationally recognized Florida Film Festival and the Eden Bar.
For additional information:
On-line: http://www.Enzian.org
Phone: (407) 629-1088
Facebook: http://www.Facebook.com/EnzianTheater
Twitter: @EnzianTheater
About Full Sail University:
Full Sail University is an award-winning educational leader for those pursuing careers in the entertainment and media industry. Founded in 1979, Full Sail has been recognized as one of the Top Five Game Degree Programs by Electronic Gaming Monthly, one of the Best Music Programs by Rolling Stone Magazine, and one of the Best Film Programs by UNleashed Magazine. In 2011, Full Sail received the "21st Century Best Practices in Distance Learning Award" from the United States Distance Learning Association, was named the "School/College of the Year" by the Florida Association of Postsecondary Schools and Colleges, and was recognized as one of the Top 100 Social Media Colleges by Studentadvisor.com.
Full Sail offers on-campus and online Master's, Bachelor's, and Associate's degree programs in areas related to animation, art business, education, graphic design, film, marketing, web development, music, recording arts, sports, and video games. Full Sail graduate credits include work on OSCAR®, Emmy®, GRAMMY®, ADDY®, MTV Video Music Award, and Spike Video Game Award nominated and winning projects.
For additional information:
http://www.fullsail.edu
http://www.twitter.com/fullsail
http://www.facebook.com/fullsailuniversity
###