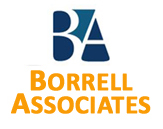 ...all battling for a share of an estimated $19.9 billion in local digital advertising this year.
Williamsburg, Virginia (PRWEB) April 03, 2012
Traditional local media companies have begun their "mediamorphosis" in earnest, becoming more like boutique digital agencies than ad-sellers. But not all of them are participating in the transformation, according to Borrell Associates' 10th annual benchmarking report.
The findings are drawn from Borrell Associates' survey of online revenues at 5,756 local media companies across the U.S. and Canada. Borrell's 43-page report details how yellow pages, newspapers, TV stations, radio stations, cable systems and Internet pureplay companies are all battling for a share of an estimated $19.9 billion in local digital advertising this year. Among the revelations:

Not all are winning. Radio stations lost online share last year, and some of the largest newspaper companies saw digital revenues decline or go flat, despite market growth of 20 percent.
Nine of the Top 10 digital-revenue-producing companies are focused on commerce-related content. Those companies trump the traditional kingpins of local media – newspapers, TV and radio stations – which tend to focus their digital content efforts more on delivering local news, weather and sports.
Autotrader.com slipped into the No. 1 spot last year with more than $1 billion in revenue, surpassing AT&T's Yellowpages.com. Groupon also registered a notable spot, coming in at No. 3.
When it comes to digital media, size matters – and that size is "small." Local media companies with one-third the unique visitors of their mass-media website competitors were getting up to three times more revenue than they were.
The fastest transition is taking place with directory companies. Dominating the list of most local online revenues were Yellowpages.com, Supermedia, Yellow Media, Yellowbook and DexOne. Most directory companies reported one-fourth to as much as 50 percent of their total gross revenues coming from digital sales.
Borrell Associates' report takes a deep dive into the local digital marketplace and documents the evolving landscape for local media. It also offers a dashboard culled from studying the top performers that achieve five to 10 times the market share of their peers. The dashboard illustrated the unique metrics that these star performers measure as they transform their businesses from "medium" companies focused on a singular core product to "media" companies that drive results for SMBs.
About Borrell Associates:
Borrell Associates is an advertising research and consulting firm that assists local media in maximizing their digital ad revenue through products such as the local ad-spending Compass Data Report, which details local ad-spending patterns for 100 businesses by 13 media. Borrell Associates issues monthly industry papers covering local ad-spending online and in mobile. In 2011, Borrell Associates acquired Belden Interactive, a leading survey research firm studying ad-spending intentions at the local-level by SMBs.