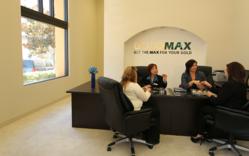 We want our customers to feel comfortable and enjoy their experience at GoldMax
Chicago, IL (PRWEB) April 04, 2012
With more than 200 stores in operation from coast to coast, GoldMax USA expansion in Southern California, Georgia, and Texas continues with the opening of three new locations in these regions. GoldMax will celebrate the opening of a new store on April 5 in the Rancho Bernardo area at 11948 Bernardo Plaza Drive in San Diego, Calif.; at 2300 Holcomb Bridge Road in Roswell, Ga.; and at 6505 West Park Blvd. Unit #328, in the Prestonwood Park Center in Plano, Tx. GoldMax now has 36 stores open in Southern California, 70 stores in Georgia, and 3 stores in Texas. Late last month, GoldMax entered the Minnesota market with a store opening at the renowned Mall of American in Bloomington and Roseville, Minn. By year end, GoldMax plans to open as many as 100 new stores in the U.S.
With Robin Leach, former host of Lifestyles of the Rich and Famous as its spokesperson, GoldMax USA, the largest chain of stores specializing in buying gold and precious metals from consumers in the U.S., expects to pump more than $100 million into the local economy this year by offering consumers the opportunity to cash in on the escalating prices of gold and silver.
GoldMax buyer in Temecula, Calif., Maritza Banuelos recounted how a grandmother came into the store to sell her jewelry so that her one-year-old granddaughter could have a surgery that might save her life. Her granddaughter lives in Mexico and the hospital's policy is if the surgery is not paid in advance, then the procedure cannot be performed. "She was able to obtain enough money so that her granddaughter could have surgery and, despite the 3% chance of survival the granddaughter was given, she has fully recovered," reported Banuelos.
GoldMax has helped more than 1 million satisfied customers and that number continues to grow exponentially as the company opens additional stores around the country. According to GoldMax co-founder Scott Garber, the company hopes to have 100 stores in operation in Southern California by the end of 2012.
"There are lots of new cash for gold stores popping up, but the GoldMax brand is different," Garber said. "GoldMax is nothing like the average pawnshop – instead, customers can come in for a free, no obligation quote, within a comfortable, high class setting – and, if they're ready to sell, they can do so right on the spot."
GoldMax store interiors are outfitted with a comfortable waiting area with one or two flat-screen televisions, jewelry showcases, and desks to meet privately with each customer. The stores, which range from 700 to 4,000 square feet, resemble a cross between an upscale jewelry store and a business office.
"We want our customers to feel comfortable and enjoy their experience at GoldMax," said GoldMax Co-founder Jordan Sadoff. "Our operation certainly shatters any comparisons to a pawn shop or any other gold buying company."
GoldMax has built a solid reputation for paying fair market value for gold, jewelry and other collectibles. GoldMax will purchase gold (any karat), silver, platinum, necklaces, bracelets, rings, earrings, charms, watches, broken jewelry, coins, sterling silver flatware, tea sets, and candlesticks.
About GoldMax USA
With more than 200 stores located from Los Angeles to Tampa Bay, GoldMax operates the largest chain of stores specializing in buying gold and precious metals from consumers. Last year, GoldMax pumped more than $75 million into the local economy and opened more than 70 stores across the U.S. GoldMax plans to open 100 new stores in 2012, including stores in the Dallas-Ft. Worth market, a new market for GoldMax. GoldMax recently appointed Robin Leach, former host of Lifestyles of the Rich and Famous, to serve as the company spokesperson. Leach doesn't accept payment for his endorsement of GoldMax, a rare event in the business of high-profile celebrity endorsements. GoldMax donates generously to his favorite charity, "Keep Memory Alive" (http://www.keepmemoryalive.org), which is committed to the education and research of a cure for Alzheimer's, Parkinson's, Huntington's and ALS. Visit http://www.goldmaxusa.com.