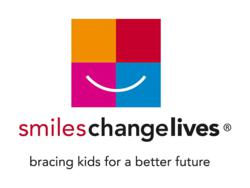 The economy has taken its toll on working-class families whose children desperately need braces.
Taylor, MI (PRWEB) April 03, 2012
Record numbers of low-income families are applying to Smiles Change Lives for assistance in obtaining affordable orthodontic care for their children. Nearly 600 orthodontists already participate in Smiles Change Lives (SCL), a national nonprofit organization that connects caring orthodontists with children in need nationwide.
In some cities where the economic downturn has had a huge impact on working families, SCL is inundated with applicants and has a shortage of orthodontic providers to meet the needs of qualified youth. "Since our national expansion in 2010, we have received applications from kids in all 50 states. It's becoming more evident every day as application rates increase in certain cities, that the economy has taken its toll on working-class families whose children desperately need braces," shares Andrea Umbreit, Director of Marketing and Communications for the charity.
Braces are no longer regarded as a cosmetic treatment reserved only for the affluent. In fact, approved SCL patients must have good oral hygiene and a moderate to severe malocclusion, or very crooked teeth and/or misaligned jaws. Severe malocclusions often compromise overall oral health and can lead to serious physiological issues in the future. Many youth need braces early on to correct these issues in addition to improving their confidence and self-esteem.
Smiles Change Lives will need upwards of 200 additional orthodontic practices to join the program to provide pro bono care to youth who meet the program's guidelines. In target cities like Detroit, Pensacola, Baton Rouge, Seattle and San Diego, Smiles Change Lives is in urgent need orthodontic practices which are willing to share their time and talents to change the lives of deserving children.
"I agreed to work with SCL because it's a solid system for me to help the kids who need orthodontic care the most" asserts Dr. Michael Lanzetta, SCL provider from Taylor, Michigan. "With SCL, I create beautiful smiles for great kids, and SCL does the rest. My staff and I have enjoyed every case we've taken on, reminding me of why I love my career so much," he adds.
Orthodontic practices interested in joining Smiles Change Lives determine how many pro bono cases they would like to treat each year and the charity conducts a thorough application and screening process for applicants. Only those youth who meet all program guidelines, show motivation and have the greatest need will be approved for the program.
"As orthodontists, we all want to give back and help children find their true smile," shares Dr. Santiago Surillo, SCL provider from San Diego. "I would encourage all orthodontists, especially my colleagues in southern California, to give Smiles Change Lives a try. It's a very efficient way to help kids who would otherwise fall through the cracks," adds Dr. Surillo.
Licensed U.S. orthodontists are encouraged to join the program to begin bracing kids for a better future. More information can be found at http://www.smileschangelives.org/learnmore or by emailing provider(at)smileschangelives(dot)org.
Families interested in applying to the program may visit http://www.smileschangelives.org/apply to determine if they qualify.
###