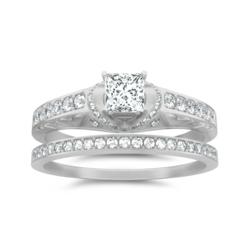 We are proud of our armed forces and our special military discount is just a small token of our appreciation
Cockeysville, MD (PRWEB) April 04, 2012
Online discount diamond jewelry retailer, JewelOcean.com, has just offered a sweeter deal to our men and women in US military. All US armed forces personnel can now save an additional 5% discount on already affordable prices on JewelOcean diamond rings and wedding ring sets. The military discount on engagement rings is available starting 3rd April, 2012 onward.
"We are proud of our armed forces, and our special military discount on engagement rings is just a small token of our appreciation to them", says Kanu Sin, director at JewelOcean.com. JewelOcean already accepts orders from US Army personnel at APO and FPO addresses, and either delivers their engagement rings to these addresses, or ships the diamond rings to their loved ones within United States. On request, JewelOcean also prepares and holds the wedding sets orders, so that they are delivered just on time, when the solider reaches home, to help them propose to their loved ones with the element of surprise.
JewelOcean has already been part of numerous love stories in US Army. The recent example was when a solider stationed in Iraq, proposed to his girl friend over the internet, which was timed exactly to the minute when the diamond engagement ring was delivered to his girl friend. JewelOcean works with its military soldiers to ensure that not only they get affordable wedding rings, but they also receive a stress free customer service to help them bring closer to their significant others.
"These are difficult economic times with lots of uncertainty. One thing that everyone should be sure of is love." added Kanu Sin. The military discount is not just limited to engagement rings and wedding sets. It is available on JewelOcean limited antique engagement rings collection, diamond bracelets collection and pendants collection. With a 5% additional savings, coupled with free shipping offer, US Army personnel can look forward to a substantial savings on their engagement rings purchase.
About JewelOcean.com
JewelOcean.com is a leading US based online Jewelry retailer, with offices in USA, Canada and Singapore. By specializing in selling engagement rings at cheap and affordable prices, JewelOcean has become the place to shop for customers looking for beautiful designs at low prices. All purchases on the online jewelry retailer come with free shipping and refund policy. JewelOcean also provides 24/7 customer service.