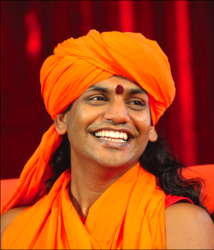 Chisel your whole life with a hammer called Responsibility. With a tool called Responsibility.
Los Angeles, CA (PRWEB) April 05, 2012
Addressing the media on April 4th at a press conference:
Paramahamsa Nithyananda today revealed several alleged falsifications and inconsistencies in the additional charge sheet filed [Cr.No. 141/2010.] against him by the Karnataka CID in March 2012.
"Since the CID is continuously bringing false information and false witnesses to the Court, I may be forced to go to the Central Bureau of Investigation (CBI) for an investigation into the matter," declared Nithyananda. The alleged victim in the latest CID charge sheet is himself facing U.S. criminal charges of child molestation brought by the State of Washington [Case No. 10-1-10009-8 SEA].
Nithyananda said that he was considering requesting that the Court either stop the media from presenting one-sided reports, or allow him also to release all the evidence from his side, or let the CBI investigate the truth of the matter.
Additionally, Nithyananda noted that Lenin Karuppan, the person who originally took credit for releasing the morphed video to the media in Mar 2010, has been arrested by the Chennai police, in India, on charges of extortion, blackmailing and criminal conspiracy. Lenin's bail petition has been dismissed by the Magistrate court in Chennai, India [CrimeNo:782/2011 on the file of CB CID, Chennai] and he is currently remanded to judicial custody in Chennai's Puzhal Prison.
Sources close to the investigation reveal Lenin has finally started to confess, in the wake of the confessions made by his fellow conspirators Prasanna, and Saxena (ex-COO of Sun TV) and his right-hand man, named Ayyappan.
About Paramahamsa Nithyananda:
Listed among the World's 100 Most Spiritually Influential Personalities by Watkins' "Mind Body Spirit" Magazine, Paramahamsa Nithyananda is a young enlightened master who is revered by millions of followers worldwide. He has emerged as a compelling spiritual force, committed to bringing about a true inner awakening for all beings on planet earth.
Ranked as the #1 spiritual guru on YouTube offering an enlightened insight into everything from corporate management, meditation, relationships, health, wealth and religion, Nithyananda has helped thousands of people overcome diseases ranging from depression to cancer, often with a single touch of initiation.
For more info on Paramahamsa Nithyananda, please visit: http://www.nithyananda.org