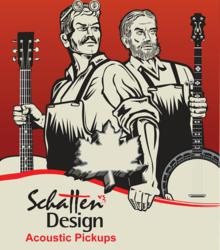 Banjoists want the true sound of their banjo, but louder. Schatten banjo pickups do exactly that.
(PRWEB UK) 4 April 2012
Banjos Direct, the UK-based specialist banjo retailer, has been appointed as a stockist for the Canadian-made range of banjo pickups acoustic instrument pickup solutions from Schatten Design. The Schatten pickups range includes pickups for banjos, resonator guitars, acoustic guitars and mandolins, plus virtually every other acoustic instrument.
Schatten produce some of the world's finest piezo transducer pickups in a small workshop in Ontario, Canada, with just a handful of skilled pickup builders. Each pickup is carefully handcrafted to exacting standards and each one is tested individually.
The Schatten range available from Banjos Direct includes the BJ-02 banjo pickups, which come in three configurations. The 'Player' offers a simple to fit jack assembly, the 'Standard' includes an elegant rosewood jack to blend with a banjo's woodwork, and the 'Pro' incorporates a volume control.
All three utilise a high-tech piezo sensor which is installed on the underside of the banjo head and is normally placed directly under and inline with the center foot of the bridge to 'listen' to the movement of the banjo head as it is played.
The Schatten BJ-02 pickup is totally non-damping, which is critical to demanding banjo players, and it does not interfere in any way with the natural acoustic tone or output of the banjo.
Simon Middleton, founder and CEO of Banjos Direct said: "Performing banjo players are always looking for the perfect amplification solution for their instruments. What they really want is the exact sound of their banjo, but louder. Technologically that is a much harder trick to pull off than most people think. Schatten do it extraordinarily well and their pickups are among the very best we've heard."
In addition to the BJ-02 banjo pickups, Banjos Direct will also be stocking the Schatten RG-03 series pickups for resonator guitars, as well as M-05 and BM-1 series pickups for mandolins, mandolas and bouzoukis.
Company information:
Banjos Direct is the UK's fastest-growing specialist banjo retailer, leading the renaissance of interest in the banjo amongst players of every age and background. The Norwich-based company is the UK's leading stockist of USA banjo brands GoldTone and Nechville, and also stocks instruments by Barnes & Mullins, Pilgrim and Tanglewood.
Founder and CEO of Banjos Direct, Simon Middleton, is frontman of English-Americana band The Proposition, whose debut album King Snake Devil Shake was released in March this year. Middleton, who was a brand strategy consultant before turning to musical instrument retail, is also the author of several books on branding, including 'Build A Brand In 30 Days' and 'Brand New You'.
Find Banjos Direct at http://www.banjosdirect.co.uk.
Email: info(at)banjosdirect(dot)co(dot)uk
Phone: +44 (0) 1603 305800