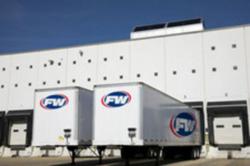 SAUGET, ILLINOIS (St. Louis Metro Area) (PRWEB) April 05, 2012
In a move to upgrade its fleet serving the central United States, Midwest and Trucking St. Louis, FW Trucking recently replaced 50 percent of its trailers, according to Mark Cusumano, President and CEO of FW Trucking.
"To better serve our customers in St. Louis, as well as throughout the Midwest and central United States, we replaced half our trailer fleet in late 2011," Cusumano said. "Look for our new trailers featuring our new FW Trucking logo. They are already on the road."
As part of the upgrade, FW's old trailers were recycled in keeping with the firm's efforts to operate in a sustainable, environmentally-friendly manner. "We make an effort to use environmentally-friendly, non-toxic, and biodegradable cleaners as part of our ongoing fleet maintenance program," Cusumano added. "Similarly, we wanted to be sure to dispose of the trailers we're retiring from our Trucking St. Louis fleet in a responsible manner."
FW Trucking is a privately-held, professionally managed trucking company centrally located in the St. Louis metro area. The firm provides truckload, LTL, drayage and regional interstate trucking services throughout the central United States and Midwest with freight-forwarding throughout the continental USA.
From its beginning providing local shuttle service in the Trucking St. Louis marketplace, FW Trucking made its name by satisfying customers with the outstanding service and expertise, coupled with fair and accurate pricing. Ultimately, FW expanded its operations to include regional interstate trucking and freight forwarding. Today, FW Trucking fulfills the transportation needs of some of the country's top corporations.
For more information about FW Trucking and its capabilities, visit the About Us and Services pages of the FW Trucking web site.