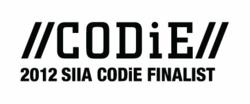 Boston, MA (PRWEB) April 03, 2012
Jenzabar®, Inc., a leading provider of software, services and strategies for higher education, today announced that the Software Information Industry Association (SIIA) has named Higher Reach by Jenzabar as a 2012 CODiETM Award Finalist in the "Best Post Secondary Enterprise Solution" category.
Established by the Software & Information Industry Association (SIIA), the CODiE Awards recognize excellence and achievement in the business software, digital content, and education technology industries through a unique combination of journalist and expert peer review. Nominated products in education technology underwent an intensive review and this year, for the first time, were reviewed solely by educators, who evaluated products through live demonstrations, trial access, and supplementary documentation.
"We're thrilled to see so many excellent educational technology products making it to this year's finalist round," said Karen Billings, vice president of the SIIA Education Division. "We look forward to honoring the winners at our awards dinner in May."
Higher Reach is a flexible, full-featured, scalable software solution uniquely aligned with the complex needs of any institution that offers continuing and professional education, certificate, or workforce development programs. The software supports the entire continuing education ecosystem, from prospective students and candidates all the way through completion and beyond.
"Jenzabar provides an innovative and broad portfolio of products that serve the complete student lifecycle. Our software developed specifically for the continuing education and workforce development, Higher Reach, has allowed colleges and universities to effectively manage a distinct student body with unique learning needs," said Christian Hartigan, Jenzabar Vice President and General Manager, Continuing Education Business Unit. "With adult and non-traditional enrollments rising, it is a special honor to be recognized as a CODiE Awards finalist for our continuing education offering."
The winners will be announced on Monday, May 7, at the CODiE Awards Reception and Dinner held each year in conjunction with the Ed Tech Industry Summit.
About the CODiE Awards
The CODiE Awards, originally called the Excellence in Software Awards, were established in 1986 by the Software Publishers Association (SPA), now the Software & Information Industry Association (SIIA), so that pioneers of the then-nascent software industry could evaluate and honor each other's work. Since then, the CODiE Awards program has carried out the same purpose - to showcase the software and information industry's finest products and services and to honor excellence in corporate achievement.
About SIIA
The Software & Information Industry Association (SIIA) is the principal trade association for the software and digital content industry. SIIA provides global services in government relations, business development, corporate education and intellectual property protection to 500 leading software and information companies. For further information, visit http://www.siia.net.
About Jenzabar, Inc.
Jenzabar, Inc. is a leading provider of enterprise software and services developed exclusively for higher education. With more than 40 years of combined experience offering technology solutions to colleges and universities, Jenzabar is the trusted partner of choice to more than 700 campuses worldwide, including private liberal arts, state, and community colleges and business, medical, law and other graduate schools. Jenzabar is headquartered in Boston, Massachusetts, with regional offices located across the United States. For more information, please visit http://www.jenzabar.com