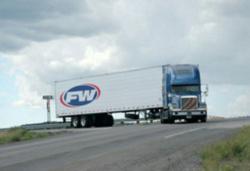 Sauget, IL (PRWEB) April 06, 2012
The name may have changed from Fresh Trucking to FW Trucking as part of the rebranding of the Fresh family of companies to the FW family of companies, but the spirit that inspired the Fresh name lives on.
"One of the most basic meanings of the word fresh is 'pure as in clean or unspoiled,'" said Jason Schrum, Freight Operations Manager for FW Trucking. "That idea has influenced the development of sustainable, environmentally-friendly maintenance/operations programs for our fleet. It's important to us that our clients' shipments arrive fresh, undamaged and unspoiled, but we should also respect the environment – that's the spirit of Fresh Trucking and it lives on in FW Trucking."
Schrum cited four major components of FW Trucking's maintenance/operations programs that have incorporated sustainable, environmentally-friendly elements: (1) switching to non-toxic, bio-degradable, environmentally safe cleaning products for the ongoing cleaning regime used for the firm's tractor trailer fleet; (2) recycling used oil and grease generated as a result of the routine maintenance of the fleet; (3) recycling trailers that have been retired from the fleet; and (4) the use of B11 fuel which is 11% bio diesel.
"You can be a responsible corporate citizen and do what's right for the environment and for the communities where we live and work, by evaluating and working to improve how you conduct your day-to-day business," Schrum concluded. "At FW Trucking we want to build upon the legacy of Fresh Trucking by doing what we can to lessen our environmental impact now and in the future, while providing efficient and cost-effective transportation services for our customers."
FW Trucking is a privately-held, professionally managed trucking company located in the St. Louis metropolitan area. The firm provides truckload, LTL, drayage and regional interstate/intrastate trucking services throughout the Midwest and central United States with freight-forwarding throughout the entire continental U.S.
For more information about FW Trucking and its capabilities, visit the Services, About Us and FAQ pages of the FW Trucking web site.