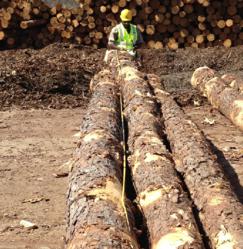 Market forces have placed both a floor and a ceiling on pine sawtimber prices over the last five years. Pine pulpwood prices have provided the floor, and wider dimension lumber prices have provided the ceiling.
Charlotte, NC (PRWEB) April 04, 2012
Pine sawtimber prices decreased by 40% from 2007 to 2011, according to recent analysis of Forest2Market's Delivered Raw Material Price Benchmark. Stumpage price decreased 41.8%, and delivered price fell 38.8%.
According to Daniel Stuber, Director of Operations at Forest2Market, most of the decline has been in the price of larger classes of sawtimber. For instance, small sawtimber prices between 2007 and 2011 fell $5/ton (both stumpage and delivered). Large sawtimber stumpage prices during this same period fell $17/ton; large sawtimber delivered prices fell $14/ton.
The causes of the substantial drop in the larger classes of pine sawtimber prices are two fold, according to Stuber, who performed the analysis: "Market forces have placed both a floor and a ceiling on prices over the last five years. Pine pulpwood prices provided the floor and wider dimension lumber prices provided the ceiling."
As the housing and construction market declined, sawmills cut production and removed a significant supply of residual chips from the market. Pulp and paper mills were forced to increase their purchases of pine pulpwood to make up for this loss of supply. The increase in demand drove pine pulpwood delivered prices higher to an average of $29/ton by 2011, just $4/ton less than smaller sawtimber (chip-n-saw) prices. As sawmills could only lower their small log prices by so much before competing with pine pulpwood deliveries, the floor was established.
As the floor was being raised, however, the ceiling was being lowered, according to Stuber. "Let's consider mid-size dimension lumber prices. Using #2 grade, southern yellow pine as a barometer, the housing and construction market has valued 2x6 through 2x10 products less than 2x4 and 2x12 products. According to Mill2Market, Forest2Market's lumber market database, 2x4s averaged $269/MBF in 2011, 2x6s averaged $234/MBF, 2x8s averaged $226/MBF, 2x10s averaged $231/MBF and 2x12s were priced lower than 2x4s, at $256/MBF. As a result, sawmill profitability on these larger lumber dimensions has been slim or even negative."
"So as a floor is caused by pine pulpwood and as sawmills have lost profit on mid-sized lumber dimensions," says Stuber, "the natural reaction of the pine sawtimber price curve has been to hold steady at smaller log sizes while declining at a much faster rate for mid-sized and larger logs. Only if pine pulpwood prices drop significantly or value is created for wider lumber dimensions will we expect a change in the slope of the curve for 2012."
View the cost curves and other data behind this analysis at Forest2Market's blog, F2M Market Watch.
About Forest2Market
Headquartered in Charlotte, N.C., Forest2Market provides market pricing data and supply chain expertise to customers in the forest, wood products, pulp and paper, lumber and bioenergy industries. For more information, visit http://www.forest2market.com.
Contact:
Suz-Anne Kinney
980-233-4021
suz-anne.kinney(at)forest2market(dot)com
# # #