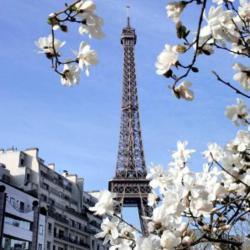 We are pleased to help our clients put a little romance back in their lives
London, UK (PRWEB) April 05, 2012
Customers of Private Jet Central seem to be in a romantic mood these days judging by the popularity of the London to Paris flight schedule. Even with the unexpected surprise of unseasonably good weather in the UK over the last two weeks demand for private jet flights to Paris has soared. There has been a marked increase in demand from people wishing to fly private jet from London to Paris at PJC since the middle of March.
The MD of Private Jet Central has said "We are pleased to help our clients put a little romance back in their lives". He added "Paris is one of my favourite cities and in the spring there really is nowhere better. We are finding that many of clients are booking at short notice and many of these trips seem to happen on the spur of the moment."
It is little wonder that Paris is proving to be so popular. The backdrop to thousands of films and songs Paris in the spring can be a truly magical place. There is a certain festive atmosphere about Paris in the springtime that few other cities in the world come close to matching. The streets are alive with noise and the scent of flowers fills the air. Some of the highlights for those new to the city include the Eiffel Tower, the Seine River and Notre Dame Cathedral.
People wishing to take fly private jet from London to Paris or hundreds of other destinations around Europe are invited to visit the Private Jet Central website. With over 10,000 aircraft available at any given time and round the clock access to dedicated flight consultants PJC offer a personal and professional service to both business and pleasure travellers. All flights can be customised in several ways and can be booked via the website.
About Private Jet Central
Private Jet Central is a global jet charter company with offices in the United Kingdom, United States and the Middle East. Founded in 2001 they offer a range of jet charter services to business and pleasure users in the UK and Europe. With over 10 years' experience in the jet charter industry they are ideally placed to meet their client's requirements. More information on the full range of services offered by Private Jet Central is available from their website at http://www.privatejetcentral.com/ and also by contacting any of their offices by phone or via e-mail.