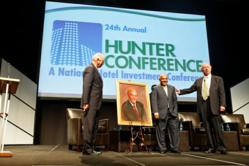 "H.P. is a phenomenal public servant," said D.J. Rama, President, JHM Hotels and the nephew of H.P. Rama. "We're very proud of his accomplishments and want to carry on the legacy that he has given us."
Greenville, SC (PRWEB) April 03, 2012
Hasmukh P. "H.P." Rama of JHM Hotels in Greenville, SC, was honored by his peers as an industry owner who has exemplified high standards in leadership, citizenship, and innovation and has been an inspiration to the industry, during the 24th annual Hunter Hotel Investment Conference held in Atlanta on March 20.
Rama received the third annual Hunter Conference Award for Excellence due to his outstanding pioneering spirit and entrepreneurial vision. On the occasion of H.P. Rama's award, Bill Marriott, CEO of Marriott said, "We congratulate him on this prestigious award, and thank him for all he has done for Marriott and the hospitality industry. I look forward to many more years of partnership." Eric Danziger, CEO from the Wyndham Hotel Group says, "This man serves as a beacon of light for us all. His compassion for others, his passion for this business and people is simply amazing." Chris Nassetta, CEO of Hilton Hotels Worldwide said, "H.P. Rama personifies the American Dream and Hilton Hotels is very pleased to be a Franchisor partner with JHM Hotels."
"H.P. is a phenomenal public servant," said D.J. Rama, President, JHM Hotels and the nephew of H.P. Rama. "We're very proud of his accomplishments and want to carry on the legacy that he has given us."
In accepting his award, an original hand-painted portrait of himself, Rama spoke about his life and career saying, "This award represents to me the unshakeable belief in possibilities and the American spirit that provides opportunities for people to realize the American Dream. I stand before you today as living proof that the American Dream is alive and well."
In addition to his skill as a hotelier, Rama is recognized for his community involvement and philanthropy in the US and beyond, particularly in the area of education. H.P.'s passion was to open a university and it came to fruition last August when he established Auro University in India, in technical collaboration with the USC Darla Moore School of Business, and the USC School of Hotel, Restaurant and Tourism Management.
About JHM Hotels:
JHM Hotels is a premier lodging company based in Greenville, South Carolina. The company is a family business with H.P. Rama serving as Chairman of the Board and Chief Executive Officer. H.P. works alongside his brothers and the next generation in owning and operating 43 hotels across the US and in India with over 7400 guestrooms. JHM has brand alliances with 13 first class, international companies including Marriott, Starwood, Hilton and Hyatt. Currently JHM Hotels is expanding with five new hotels in various levels of development. For more information, visit our web site at http://www.jhmhotels.com.