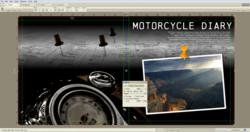 Montreal, Quebec, Canada (PRWEB) April 04, 2012
LumaPix® proudly introduces version 5 of FotoFusion®, the award-winning layout tool of choice for creating wedding albums, photobooks, and other photo-centric graphical projects. This release represents two additional years of development on the core engine and delivers new features, enhanced stability, and even more astonishing performance.
What makes FotoFusion a uniquely powerful image layout tool is the speed of the user interface and the non-destructive nature of the compositions it creates. Users can change their mind at any time and uncrop images, unblur backgrounds, resize the canvas to target a different album manufacturer's specs, or render output at any resolution without losing quality.
Unlike free layout tools offered by album companies, FotoFusion is "manufacturer-agnostic" – users can design a 12x12 bride's album to match Graphistudio® specs, and then easily reshape the entire album to match an 8.5x11 album to match Blurb® specs for the parents.
The software provides power layout tools, an integrated organizer, rendering to PDF/PSD/JPG, online sharing of results, integrated email proofing, and a complete library of preset album sizes for popular photobook and album binding companies.
WHAT'S NEW
Feature enhancements in v5.0 include:
WEB ALBUM OUTPUT

FotoFusion projects can be shared with mobile users with a single click. Customers, brides, school principals, and other recipients can open their mobile device and instantly flip through the pages of your project online.
Supported platforms include iPad, iPhone, Android, Blackberry, Mac and PC browsers.
There is no per-project fee to post to this service – it's free. Projects live 30 days and include LumaPix branding.
COMPLETELY REWRITTEN TEXT ENGINE
Text has been completely re-architected. All editing now happens in-canvas, with WYSIWYG editing providing per-character attributes (bold/italic, font, skew, inter-character spacing, rotation, etc).
Effects such as embossing and blurring can be applied per-character.
Text flows can fit into shapes, and right-to-left or top-to-bottom languages such as Hebrew, Arabic and Japanese are now supported.
PDF export now supports layers and vector text – all text looks perfectly crisp at any zoom setting. This is important for both very fine text (as in business cards) and very large text (as in grand-format advertising).
FORM FACTORS
New preset book sizes have been added for the following album manufacturers:
• Bay Photo
• Blurb
• Bridgeport
• Finao
• HP MagCloud
• Leather Craftsmen
• Millers/ Mpix
• White House Custom Color
• Zookbinders
USER INTERFACE IMPROVEMENTS
The famed FotoFusion UI has been improved, particularly in the areas of program entry and rendering.
At startup, the user can choose a template and form factor independently – mixing and matching styles and physical dimensions for output.
Layouts can be mirrored with a single click.
Text Search is supported – enter some text and FotoFusion will navigate to the page holding that text.
STABILITY AND SPEED IMPROVEMENTS
FotoFusion V5 benefits from two years of development on YearbookFusion, a product LumaPix has developed for the Yearbook market and which has found success in thousands of schools. The demands of supporting schools, producing complex data-driven projects on machines of uneven power, has resulted in numerous improvements and much stronger error-checking which have now found their way in the FotoFusion product.
FotoFusion is visibly faster – multicore rendering is now used – and persistence has been completely rewritten for much higher performance and stability.
IMPROVEMENTS TO MAC SUPPORT
FotoFusion V5 continues to improve on the Mac version of FotoFusion, which was introduced in Beta form many months ago. The Mac version runs on any Intel Mac running Leopard, Snow Leopard, or Lion, with feature parity with the PC version.
V5.0 includes additional speed improvements, with particular focus on startup times.
DATA MANAGEMENT
Project versioning is now supported. Right-clicking on a project in the file/open dialog produces a list of recent saves – allowing the user to navigate back in the history of the project to recover earlier versions.
TRANSLATIONS
FotoFusion runs in German and Portuguese in addition to English. Partial support for Korean, Japanese, Spanish, and French is also available.
PRICING AND AVAILABILITY
Visit http://www.LumaPix.com to try FotoFusion at no charge.
New licenses of LumaPix::FotoFusion v5 are available immediately for OSX 10.5, 10.6 and 10.7, Windows 7, Windows Vista and Windows XP for $119.95 to $299.95, depending on features selected.
Existing users are invited to upgrade at a discount ($59.95 to $219.95) at the LumaPix website. Users who purchased v4.5 on or after July 21 2011 will receive v5 at no charge.
ABOUT LUMAPIX
LumaPix is a private corporation based in Montreal, Quebec, Canada. Our mission is to provide powerful, easy-to-use media tools that enable professionals to create results that amaze and delight their customers. FotoFusion is an exceptionally powerful, easy to use photo layout software package that enables users to create, share, and publish image layouts with uncompromising quality. For more information about LumaPix and FotoFusion, visit http://www.LumaPix.com.
©2012 LumaPix. All rights reserved. Product specifications and availability are subject to change without notice. LumaPix and FotoFusion are trademarks of LumaPix. All other trademarks contained herein are the property of their respective owners.
MEDIA CONTACT:
Michael Sheasby
877-586-2749
biz(at)lumapix(dot)com