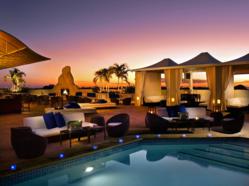 "We're proud to offer Elite Certified status to the Mayfair Hotel and Spa. Our endorsement reflects our belief in the exceptional standards that visiting groups can expect," says EMI CEO Kelly Foy
Miami, FL (PRWEB) April 11, 2012
Mayfair Hotel and Spa, a boutique Miami hotel is pleased to announce that it has been awarded Elite Certified status by Elite Meetings International (EMI), an innovative company that offers tools to assist top planners in researching the best properties for meetings and incentives throughout North America, the Caribbean, Mexico, and Europe.
Elite Certified status is granted by EMI's Elite Meetings Advisory Board, a distinguished body comprised of corporate meeting planners and hospitality executives. The board considers the resorts and hotels based on a demonstrated commitment to providing an exceptional group experience. A number of criteria factor into the advisory board's assessment, including the arrival experience, accommodations, meeting and event facilities, activity options, food and beverage, and most importantly, service.
"Our goal in establishing Elite Certification was to compile a peer-rated resource that recognized those properties that represent the best of the best, independent of affiliation," says EMI CEO Kelly Foy. "We're proud to offer Elite Certified status to the Mayfair Hotel and Spa. Our endorsement reflects our belief in the exceptional standards that visiting groups can expect."
"We are extremely honored to be the recipient of this important designation. To have our hotel be approved by both industry veterans as well as those who do business at our property is a real honor and acknowledgement of our hard work," says Saun Lightbourne, Director of Sales & Marketing of the Mayfair Hotel and Spa.
In a testament to service of the Mayfair, Marina Freedman, program manager for the Division of Continuing Medical Education at the University Of Miami Miller School Of Medicine says "My experience at the Mayfair Hotel and Spa has always been excellent. I have used the venue for several programs in the past 3 years and have had excellent experiences each time. The staff, from the sales manager, to the event planner, to the banquet staff, were professional and provided exceptional service and follow up and met my groups' every need. I plan on giving the Mayfair future business for years to come."
About Mayfair Hotel & Spa
Located in the heart of Coconut Grove, FL, the Mayfair Hotel & Spa is a haven of style, flair, intimacy, and class. The hotel offers a peaceful open-air courtyard, featuring lush tropical plants and an Asian water garden, a 4,500-square-foot Jurlique Spa featuring organic products produced in Australia and a 24-hour fitness center. Most of the 179 newly renovated luxury hotel suites boast private balconies and Japanese hot tubs. The Rooftop Cabana Club offers panoramic views of Miami's Biscayne Bay and guests can enjoy the heated, outdoor pool surrounded by eight private cabanas with L-shaped sofas and flat screen TVs. Additionally, the hotel provides 15,000 square feet of event space, encompassing one ballroom, seven meeting rooms and an outdoor garden. Guests can unwind with a drink at the tranquil Lobby Bar and enjoy dining at Spartico restaurant, an Italian trattoria. For more information and reservations, visit mayfairhotelandspa.com or call 305.441.0000. For news and updates, visit Mayfair Hotel & Spa on Facebook and on Twitter @Mayfair_Miami or @SparticoGrove.
About Elite Meetings International, Inc.
Based in Santa Barbara, Elite Meetings International, Inc. (EMI) provides integrated solutions to enhance the performance of meeting and hospitality professionals. EMI supports this community through a combination of innovative technology, direct sales support, customized marketing programs and face-to-face business-building events. Additionally, http://www.EliteMeetings.com serves as a commission-free RFP-generating tool and a comprehensive vehicle for sourcing luxury, upper-upscale, and upscale properties. EMI's innovations include FaceTime™ (http://www.FaceTimeScheduler.com), a widely used program for helping buyers and sellers – across any industry – identify synergies, manage appointments, and make direct connections with one another; and SpeedRFP™ (http://www.SpeedRFP.com), a new time-saving product for creating, submitting, and managing RFPs online. For additional information, please visit http://www.EliteMeetings.com or call (805) 730-1000.