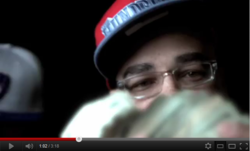 Miami, FL (PRWEB) April 03, 2012
Northwest hip hop artist Cool Nutz recently released the official video for his single "Superman" featuring Mikey Vegaz and presented by Coast 2 Coast Video Distribution. Featured on his album "The Cook Up," which is available for free download, "Superman" was filmed and directed in Portland, OR by Beejan Iranshand.
"Both fun and conscious, sensational and philosophical, Scott's music defies subcategorization." Jason Simms - The Oregonian
In a culture that has become based on passing fads, maintaining relevance has become quite the task. In the world of hip hop music, artists come and go and hit singles fizzle out and are soon forgotten—and artists that stand up to the test of time and sustain longevity are few and far between.
Enter Cool Nutz.
With close to 20 years of service to hip hop culture, Terrance Scott aka Cool Nutz has been a class act and diplomat for Northwest hip hop. While some have chosen to simply pursue success on an individual basis, Cool Nutz chosen to put the region and city of Portland on his back and work to give an area typically unheard a voice.
From starting the highly successful Jus Family Records, to two major label record deals with Big Beat/Atlantic and Universal Records, to co-founding The Portland Oregon Hip-Hop Festival(12 years running), to creating and programming The Northwest Breakout Show (Wild 107.5 Portland/Clear Channel), to being showcased in Seattle's Experience Music Project Museum alongside Sir Mix A Lot, Cool Nutz has built quite the body of work that will go down in the history books of Northwest music.
With nine solo albums to his credit and appearances with the likes of E-40, BG, Tech N9ne, Kurupt, Ras Kass, Baby Bash, Mac Dre, The Grouch, Mistah Fab, C-Bo, and more, Cool Nutz has built an amazing resume, and looks to continue that with the release of his latest album "The Cook Up".
On "The Cook Up" Cool Nutz continues to validate why he has been one of the most credible and talented voices to come from the Northwest and continues to add to his already impressive legacy. With appearances from Bosko, Potluck, Illmaculate, Mikey Vegaz, Maniac Lok, TxE, Kenny Mack, and more, you can rest assured that there will be plenty of witty lyricism and slick wordplay to keep you glued to your speakers or headphones. And if the appearances aren't enough, the bonus is mind-blowing production from heavy hitting tracksmiths DJ Quik, Bosko, Trox, Nonstop, Tope, Lawz Spoken, G_Force, HI-Q, and Terminill.
"Superman" featuring Mikey Vegaz is available to view at http://www.youtube.com/watch?v=--dTXkGbbBs&feature=youtu.be.