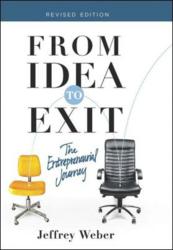 "Easy to follow roadmap for today's entrepreneur, from seed idea to a well-planned exit strategy"
Bloomington, IN (PRWEB) April 05, 2012
Triple Nickel Press, publisher of innovative business books, announces business expert and entrepreneur Jeffrey Weber's unique and practical new book, From Idea to Exit: The Entrepreneurial Journey. Leveraging principles learned through his own start up success, From Idea to Exit serves as an easy to follow roadmap for today's entrepreneur, from seed idea to a well-planned exit strategy.
Jeffrey Weber, a Loyola University School of Business graduate, founded and led a successful technology company for over a decade. During that time, the business appeared on Inc. Magazine's Top 500 Fastest Growing Private US Companies list multiple times. In 2006, Weber successfully sold his business to a Fortune 100 company. Now the CEO of a new venture, Weber continues supporting the entrepreneur community by serving as a speaker, angel investor, and mentor for numerous businesses, while teaching college courses on Entrepreneurism.
"There are so many different phases in an entrepreneur's journey. With this book, I set out to create a guide to help clarify each step. I have strategies for the person with a great idea, but who has no plan for setting it into motion, as well as tactical advice for the long-time business owner who is ready to negotiate a profitable exit," said Jeffery Weber.
While the book reads as engaging and personal as an autobiography, it clearly outlines four phases for entrepreneurial success - starting with the idea, moving into design and ability for success, running a thriving business, and finally acquisition. The book also discusses key topics in the entrepreneurial community including risk, opportunity, feasibility, and finances.
From Idea to Exit is available for purchase immediately from Triple Nickel Press.
###
About Triple Nickel Press
Triple Nickel Press (TNP) publishes innovative business books with a commitment to inspiring and improving the practices of individuals and organizations. TNP's books cover a wide range of categories, including organizational leadership, business management, entrepreneurship and personal motivation. Many books take a unique view of traditional business topics by capturing the lives of inspiring leaders, marrying nontraditional topics like neuroscience with business management, and encouraging global practices.