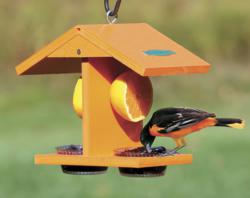 My orioles love the BirdBerry Grape Jelly. I can't wait until my orioles arrive!...Pat M.--Duncraft Customer
Concord, NH (PRWEB) April 10, 2012
Orioles are striking birds with black, orange and yellow feathers that are a pleasure to see. Now is the time to think about attracting orioles because they return from their winter migration around the beginning of May. Duncraft offers tips on how to attract these beautiful birds and how bird lovers can enjoy them all through spring and summer.
Orioles love sweet grape jelly and it's one of the easiest ways to attract them. Duncraft suggests offering BirdBerry Grape Jelly that is specially made for birds with no preservatives or corn-sweeteners. Duncraft's Eco-Oriole Fruit and Jelly Feeder is perfect for offering grape jelly because it has two plastic cups that are removable for easy cleaning. Orioles can also be attracted with another favorite food—orange halves. The Eco-Oriole feeder has skewers on either side for securing fresh orange halves.
Orioles also love sugar-water in an oriole nectar feeder. Duncraft offers instant oriole nectar for this purpose, but customers can also make their own. The recipe for oriole nectar is one part white table sugar, well dissolved into three parts water. Oriole nectar feeders are different from hummingbird nectar feeders because they have perches and usually an orange color that seems to attract the birds as well.
Although orioles are easily attracted to sweet foods in spring and during nesting, they are also insect eaters and tend to leave fruit and jelly feeders to forage for more protein foods as summer progresses. Duncraft's tip to keep orioles around longer is to switch from sweet foods to insect foods when the birds no longer seem interested in jelly, nectar and oranges. Duncraft offers a complete selection of insect foods. The jelly cups in Duncraft's Eco-Oriole feeder are ideal for offering mealworms, either live or dry-roasted, dried grasshoppers, dried caterpillars or even suet pellets. And the skewers can be used for a variety of fruits such as apples, peaches or bananas. Besides switching up food offerings to keep orioles around longer, Duncraft also advises that to attract any birds and keep them coming back, foods should always be fresh and feeders kept clean.