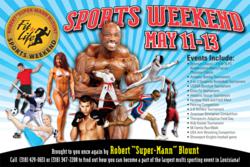 Hosted by Robert "Super-Mann" Blount, the Fit for Life Weekend is the largest multi-sport event in Louisiana, and is expected involve an estimated 16,000 health and fitness enthusiasts
Shreveport-Bossier, LA (PRWEB) April 05, 2012
The Fit for Life Sports Weekend, May 12-13, will feature athletes from around the world competing in a variety of sporting events throughout Shreveport-Bossier. Bodybuilding, strongman competitions and arm wrestling are just a few of the sports that will be featured during competition at the Shreveport Convention Center, beginning at 9 a.m. on Saturday, May 12. Admission is $25 per person at the Shreveport Convention Center and will grant spectators access to all events throughout the day. Additional sporting events will take place at Lee Hedges Stadium, Southern Hills Park and Tinsley Park. For more information and a complete schedule of events, visit http://www.bfitforlife.org.
Hosted by Robert "Super-Mann" Blount, the Fit for Life Weekend is the largest multi-sport event in Louisiana, and is expected involve an estimated 16,000 health and fitness enthusiasts. In conjunction with the sporting events being held at the Shreveport Convention Center, a Fit for Life Fitness Expo will take place offering the latest trends in supplements, apparel, and training equipment. For additional information on the Fit for Life Fitness Expo and booth space, contact Robert Blount at (318) 429-0651 or (318) 347-2208.
The Fit for Life Weekend is an annual fitness and wellness event designed to promote health awareness in our community through education.
Though the event is still in its infancy, Blount hopes to expand Fit For Life Weekend each year through the inclusion of more sporting events and a larger Expo.