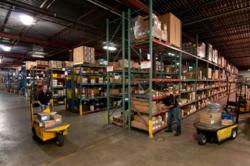 The days of assembling head pulling grips in the field, hiring 2 to 3 extra hands to move heavy reels or rolling the dice on injury when lubricating cable to feed into conduit are now over thanks to Frost's partnership with Southwire.
St. Louis, MO (PRWEB) April 04, 2012
The people at Frost Electric proudly announce the expansion of their Southwire wire and cable-pulling products inventory at their 6 convenient locations across the Missouri bi-state area. One of the only sources for Southwire cable products in St. Louis, Frost Electric, now carries the SIMpull line of No Lube Cables, head pulling grips, reels, color feeder size wire and more. The new line of Southwire products will surely change the cable-pulling game, giving electricians and contractors a distinct advantage over the competition on their next job. The days of assembling head pulling grips in the field, hiring 2 to 3 extra hands to move heavy reels or rolling the dice on injury when lubricating cable to feed into conduit are now over thanks to Frost's partnership with Southwire.
Installing building wire is often considered time-consuming, messy and hazardous. Seeking to deliver time-saving solutions as well as assist in creating safer work environments for their customers, Frost Electric Supply St. Louis is now supplying Southwire's SIMpull THHN No Lube Cable to their 6 convenient locations across the Mid-Missouri and bi-state area. The Southwire THHN No Lube cables pull into conduit the exact same way that lubed THHN does, without the mess and risk of safety hazards such as injuries to fingers or slipping on spilled cable lubricant. As an additional service for their customers, Frost offers intermediate and feeder cable in both black and standard colors, which can be cut to length; ensuring customers get exactly what they need, with no expensive waste. This service offered by Frost, in addition to Southwire's quality product selection will surely speed up installation time while increasing jobsite safety.
Frost is also excited to announce the exclusive Frost POWEReel™. Combining multiple pulls onto one reel with up to 4,000 lbs. of wire capacity, these custom wire carts will cut costs and save time on the jobsite. Delivered directly to the job site on casters, the POWEReel conveniently brings the wire where customers need it when they need it. Frost POWEReels can be configured in a variety of ways including stacked runs, 4 leg parallels and an independent spinning payout for ground wire.
Another new product that is sure to save contractors time and money is Southwire's Metal-Clad All-Purpose (MC AP) cable. UL-listed and NEC-compliant, the MCAP cable can replace conventional AC or MC cable in a variety of applications, and save contractors up to 30% in installation time and costs. Featuring an integral grounding wire, Metal-Clad All-Purpose cable stays in contact with the armor throughout the cable length in order to provide superior grounding performance, thereby eliminating tiresome branch circuit make-ups in every box and outlet. Now available at Frost, Southwire's innovative MCAP cable ensures contractors gain a substantial competitive edge on future jobs.
The frustrating inefficiency of cable-pulling can leave many contractors behind the competition when bidding for jobs. Contractors and electrical professionals can save time installing building wire by ordering cables from Frost with factory installed SIMpull Head pulling grips already on the cable. This service helps eliminate the labor and wasted cable required to make pulling heads in the field. Another unique feature of the SIMpull Head grips is their low-profile, staggered design which allows easier fits into conduit, especially when working on tight turns. Workers can simply set the reel, attach the pull rope using a clevis to the pulling head, and start the pull. To receive more information regarding SIMpull cable and pulling grips, customers are encouraged to contact one of Frost's expert-trained representatives today.
Southwire cable products available through Frost Electrical Supply in St. Louis, MO are not limited to cables and head pulling grips. To further reduce scrap and clean-up by reducing the number of reels on a job, Frost carries SIMpull stacks and MaxisJax jacks. Southwire's new SIMpull Stack allows customers to combine multiple pulls on one single reel, offering up to 5 phases for up to 4 pulls, speeding up installation time. Conveniently, each segment can be cut to length, separated with shrink-wrap between each layer, and combined on one reel in the order of the customer's needed pulls. Each pull is then labeled and pre-installed with Southwire's SIMpull Head pulling grips. Named Product of the Year for the second straight year by Electrical Construction & Maintenance magazine, the SIMpull Stack reel can help contractors save time and improve job site productivity.
An especially popular product among Frost customers, MaxisJax jack stands are lightweight, allowing one person the ability to transport quickly to the pull site. For added safety, MaxisJax specially designed jaws clamp down onto the axle ensuring smooth and easy rotation while safely holding the reel firmly in place. Cable product offerings like these help reinforce Frost as a true, one-stop shop for electrical professionals. Southwire products offered only at Frost are sure to improve job flow, increase safety, save money and reduce waste, giving contractors greater opportunity to beat their competition. When planning their next job, customers should choose Frost as their source for electric supplies in St. Louis and throughout the Missouri bi-state area.
Stay tuned for new additions to the Frost/Southwire portfolio of wire and cable solutions. The SIMpull WireBARREL Circuit Barrellel System will be launching soon. This system combines SIM technology with circuit-sized wire in a convenient barrel to save time on branch circuits. Frost has paralleled multiple branch circuit conductors into a barrel package for a smaller footprint and more productive and profitable home runs.
For workers in the electrical business looking for quality cable pulling supplies in St. Louis, be sure to visit the people at Frost today. Regular Sales and Tool Center Hours for all Frost locations are 7am-5pm, Monday-Friday. Specializing in electrical lineman tools, industrial automation, solar supplies, safety and voice and data industries, Frost continues to meet the needs of hard-working folks across the bi-state area. Their knowledgeable staff is proud to serve customers from its headquarters in Maryland Heights, MO and its five full-service retail locations in the city of St. Louis, O'Fallon, MO, Columbia, MO, Collinsville, IL and Lebanon, IL.
For more information about Frost please contact Nick Arb by calling 314-743-0207 or visit http://www.frostelectric.com.
Frost. Providing unmatched supply, support and service to their customers for over 100 years.